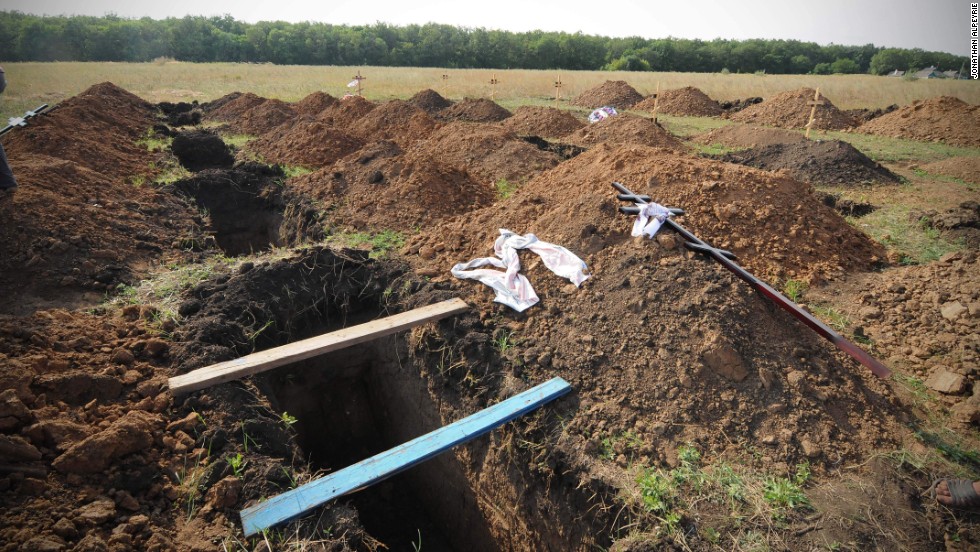 In the midst of the Donetsk steppe on the mountain stands a wooden cross. Is similar, only much more put on the roads of Ukraine As amulets. On the cross hangs a soldier helmet plywood plate below the faded marker inscription: "Here lie four Ukrainian warriors, which finished it off, then set fire to their And dumped near the road. Buried fifteen. 09. 2014 ".
"Here the locals buried the soldiers of the Ukrainian army. Like the river found them, close to the road, after the battle, " says Victor Fly, the Deputy head of the Union of Afghanistan veterans of Lugansk region.
This organization together with the people's militia LNR AND Ukrainian volunteers of the humanitarian mission "Black Tulip" are engaged in the search, exhumation And transfer of the Kiev bodies of soldiers of the armed forces. Watching all the Commissioners of the OSCE.
"Here are four lies below another. Believe me, this is only a small proportion of all burials, which we send data. We have a lot of bodies are Not even Buried. Parts are collected in the fields, in the debaltseve area, for example", says Victor.
And this cross, And a helmet, And ubiquitous grasshoppers, And all This bathed in afternoon sun Prairie, As if merged. The peace And quiet." As if there is war, " I freeze.
"Don't relax - and chuckled low rebel in a dark green camouflage - you see at the bottom of the river?(Five hundred meters from us flows the Seversky Donets river). It is already the Ukrainian district, snipers, probably in the bushes sat down, holding us at gunpoint ".
"Oh, don't bother with us W OSCE! And volunteers over theirs. Won't shoot.
Tuesday 9 June 2015
http://news.rin.ru/eng/news///113649/