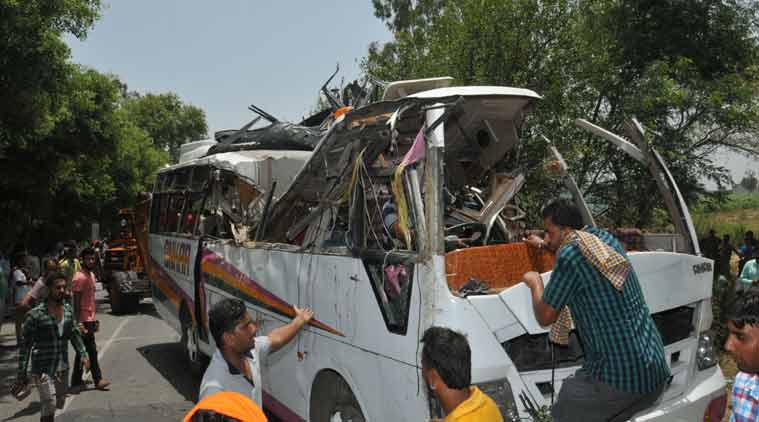 At least 15 people were killed and around 48 injured in a road accident on Friday morning when a private bus carrying around 56 persons turned turtle and then rammed into a roadside tree near old Behram toll Plaza on Chandigarh-Phagwara main highway.
The victims could not be identified till the filing of this report. The driver of the bus has been identified as Jaswinder Singh. The accident took place after 9:00 am when a private bus of Onkar Bus Service was coming back from Nawanshahr to Jalandhar.
The front portion of the bus was totally mangled and half of the bus roof was uprooted by the tree. Police and passersby struggled to bring the victims out of the bus. Even the backside glass of the bus was cut and the seats from the front were uprooted to make a passage to bring the injured out, said DSP Saravjit Singh.
Among the 42 injured, 10 are in a serious condition. One of the survivors, Raman Kumar, recalled that all of sudden he felt that bus went out of control before it overturned.
The police reached the spot within minutes and rushed the victims to the Charitable hospital few kilometers away from the spot. "We stopped the other vehicles to rush the victims to hospital and also called up our villagers for help," said a commuter.
Both Civil and police administration reached the spot. Families have started reaching the hospitals.
Saturday 13 June 2015
http://indianexpress.com/article/india/india-others/15-killed-48-injured-as-bus-rams-into-tree-in-behram/