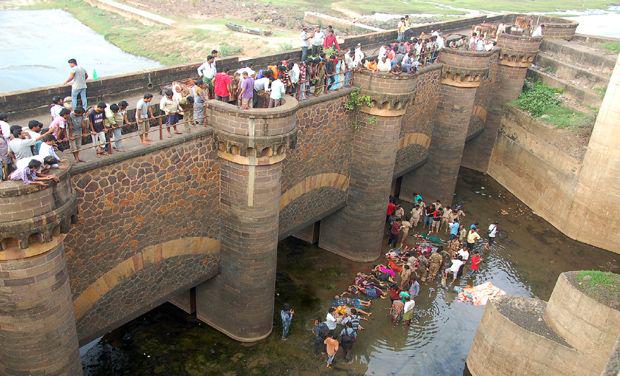 A van packed with Hindu pilgrims early on Saturday swerved off a bridge and plunged into a river in southern India, killing 21 people including six children, officials said.
The accident happened when the van was returning from a pilgrimage to the famous Tirupati-Tirumala temple in Andhra Pradesh state and lost control on a bridge, killing all but a 12-year-old boy.
"The vehicle driver appeared to have lost control and hit a wall of the bridge and fell off into the Godavari River," the Press Trust of India news agency, quoted an unnamed police officer at the scene as saying.
"However, the water-level at the point of accident was very shallow," he added.
Andhra Pradesh Chief Minister Chandrababu Naidu expressed his grief on Twitter and promised that authorities were "providing all help possible".
"Deeply saddened about tragic death of 21 people travelling in a van after it fell off Dowleswaram bridge," Naidu said.
"The kid, a lone survivor, is undergoing treatment."
India has some of the world's deadliest roads, with more than 200,000 fatalities annually, according to the WHO.
Transport analysts attribute the huge number of accidents to poor roads, badly maintained vehicles and reckless driving.
Saturday 13 June 2015
http://www.ibtimes.com/india-bus-crash-21-feared-dead-2-injured-near-rajahmundry-eastern-india-1965540