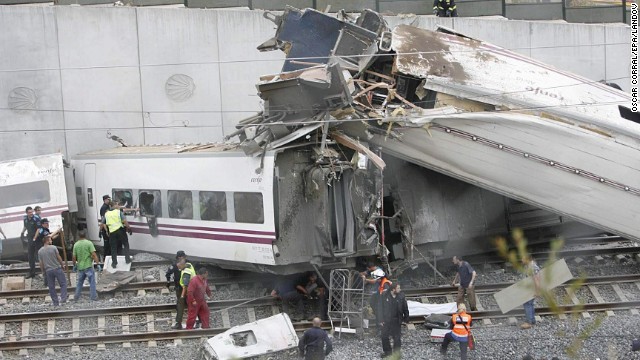 The death toll rose to at least 79 on Sunday morning when another person died, a representative for the regional health department said.
Authorities said forensic experts have identified the last three bodies of the 78 people already confirmed killed when the intercity train derailed and smashed into a concrete wall.
They did not reveal the victims' names but said their families had been informed.
As they are identified, most of the bodies are being returned to their families, the regional justice department said. DNA testing will be conducted on some remains to establish their identity, it said.
Police forensic experts said at a news conference Saturday there are 37 body parts that must still be tested to see whether they belong to bodies that have already been identified, or to others not yet known.
Local newspaper La Voz de Galicia said that a funeral service for the victims will take place Monday evening in the cathedral in Santiago de Compostela.
At least 130 people were taken to hospital after the crash. About 70 people who were injured in the crash remained in the hospital Sunday, about 22 of them listed in serious condition, the official said.
Five US citizens and one Briton were among the injured and one American was among the dead.
The train crash is the worst Spain has experienced since a three-train accident in a tunnel in the northern Leon province in 1944.
Due to heavy censorship at the time, the exact death toll for the Torre del Bierzo disaster has never been established.
The official figure was given as 78 dead, but it is thought that as many as 250 could have been killed.
Sunday 28 July 2013
http://news.sky.com/story/1121409/spain-train-crash-new-death-brings-toll-to-79
http://edition.cnn.com/2013/07/28/world/europe/spain-train-crash/index.html