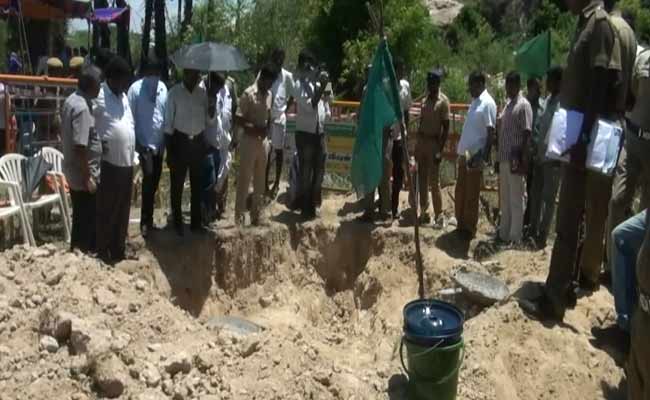 The little village of E Malampatti in Madurai district, Tamil Nadu, has been all aflutter this past week. The media's spotlight has been turned squarely onto this village, now notorious as the site of alleged human sacrifices conducted around 12 years ago. A jeep driver formerly employed with a large granite firm PRP Granites, reiterated, after several years, his allegation of human sacrifice having been conducted by his former employer PR Palanisamy and his henchmen.
The jeep driver Sevarkodiyan claimed, in a petition to IAS officer U Sagayam four months ago, that he had picked up a few mentally ill persons in neighbouring Pudukottai district and brought them to his boss PRP's office, when he was employed with the granite firm between 1998 and 2003. He claimed that those mentally ill persons had been sacrificed as part of a ritual and buried near E Malampatti village. Sagayam, who is the legal commissioner appointed by the Madras High Court to probe into a Rs 16,000 crore granite scam in Madurai, decided to push for investigations into these astonishing allegations. Exhumations were ordered at the burial site last weekend and the gripping drama began.
"Sagayam was worried that the evidence at the burial site might be removed overnight by vested interests and so he camped there for a night last week to ensure that the bones would be protected," said a source in Sagayam's team, on condition of anonymity. Police dug 5 feet deep and recovered 4 bodies on the 13th of this month. Sagayam ordered police to dig upto a depth of 10 feet. Two more bodies were recovered, all of which have been sent for forensic analysis, with results on the first four bodies likely to arrive this week and on the last two bodies next week.
The biggest eyebrow-raiser appears to be the actual spot being dug up by the police. The area has been used as a graveyard by villagers for the past 10 years. "If you dig a graveyard, what are you going to find there?" asked a police officer on condition of anonymity. A retired police officer likened the situation to a witticism – "A small two-seater Cessna 152 plane crashed into a cemetery early this afternoon. Search and rescue workers have found two survivors and recovered 300 bodies so far and expect that number to climb as digging continues into the evening," he quipped.
Police now have the onerous task of matching DNA samples from the bodies with those of villagers, to see whether the dead are relatives of the villagers or unknown persons, as claimed by Sevarkodiyan.
The second red flag is in the complaint filed with the Madurai police by the jeep driver Sevarkodiyan. His complaint does not specify when he had actually picked up the mentally ill persons from Annavasal in Pudukottai district. The written complaint with the Madurai police simply states that between 1998 and 2003 Sevarkodiyan was working as a jeep driver with the granite company PRP. He states that he went to Annavasal, picked up 2 people and left them at the PRP office. A month and a half later he came to know that the same people were found dead on the riverbank. The three accused named in the complaint, he states, buried the body in the specified location. Police say that this complaint is too vague to be of much help.
"We have to further verify the complaint made on this issue," Madurai Superintendent of Police (SP) Vijayendra Bidari told Firstpost. "We need to find out specifics of when the incident took place and identify the deceased. We have sent the skeletons for forensic tests to establish the time of death. Once we get the reports we will have a clearer picture," he said. Other questions that the police would like to ask Sevarkodiyan are whether he was asked to bring in the mentally ill persons or whether he did that on his own, and details on how he managed to lure them into his vehicle along with a detailed description of the alleged victims. Sources within the investigation team probing the human sacrifice angle told Firstpost that the bodies exhumed had a specific coloured cloth with a decorative border wrapped around them. These bodies have also been buried in a specific north-south direction as per village practices. Police say that local villagers have come up to them stating that their relatives were buried at the same spot in a particular coloured cloth. "Some bodies had been buried with coconuts tied to them," said the source requesting anonymity. "Villagers tell us there is a practice prevalent amongst certain communities here of burying unmarried persons with coconuts tied to their bodies," he said, debunking media claims that the coconuts indicated ritualistic sacrifice.
All six bodies have been sent to a team of three forensic doctors for testing. The Polonium 210 test will be used to determine the closest time of death – this test can show time and year of death up to a margin of 138 days before or after the actual date of death.
Another team of police has fanned out across Madurai district hunting for occult practitioners who may have knowledge about the rituals of human sacrifice. Yet another team is scouring through the database of missing persons in and around Madurai district.
"If Sevarkodiyan's claims are true, then the mentally ill persons that he picked up could have come to Pudukottai from anywhere in the country," argues a senior police officer, pointing out the daunting near-impossibility of the task of identifying the victims, if any.
This process was in fact already carried out in 2012 by then SP of Madurai V Balakrishnan and his team, who had originally carried out the raids on the granite mafia, freezing their accounts and shutting down their businesses. "We made extensive inquiries in hospitals in MDU and Melur about deaths in quarries," Balakrishnan, who is now Deputy Commissioner in Mylapore, Chennai, told Firstpost. "We also checked with the injured admitted from quarry sites. We analysed all unnatural death cases reported under Section 174 of the CrPC (Criminal Procedure Code) 15 years before 2012 and we couldn't find anything fishy in any of those cases. Based on a general complaint on suspected human sacrifice, we did all this. There was no specific complaint from any relatives of missing persons when we looked through the missing persons list," he said.
Interestingly the Supreme Court has already dismissed in toto a Special Leave Petition in December 2013 – an intervenor petition by activists along with Sevarkodiyan had pled for investigation of these same allegations of human sacrifice. "That many innocent Dalit bonded labors from Orissa and Bihar and poor workers and insane people in the area have been barbarically slaughter on human sacrifice called 'Nara Palli', that is killing a human being as a sacrificial offer to please bad demons to further the business at every new quarrying site secretly by the Granite mafia," says the intervenor petition in the Supreme Court filed in 2013. All of these have been dismissed summarily by the apex court.
Legal commissioner Sagayam remains tight lipped. His job, he says, is to report findings to the court. "I will submit my report on illegal granite mining to the court in two weeks," he told reporters last week. "I do not wish to say anything beyond that." His team, though, is convinced that they have stumbled onto a big revelation.
So did a human sacrifice happen or not? There are no easy answers to this and there never may be. The astounding allegation by one jeep driver could well remain just that – an allegation. With next to nothing to work on, police continue to plod on with their investigations. But at the end of all this, E Malampatti certainly has had its 15 minutes of fame.
Tuesday 22 September 2015
http://www.firstpost.com/india/prima-facetious-why-allegations-of-human-sacrifice-in-tamil-nadu-are-too-hard-to-probe-2439980.html