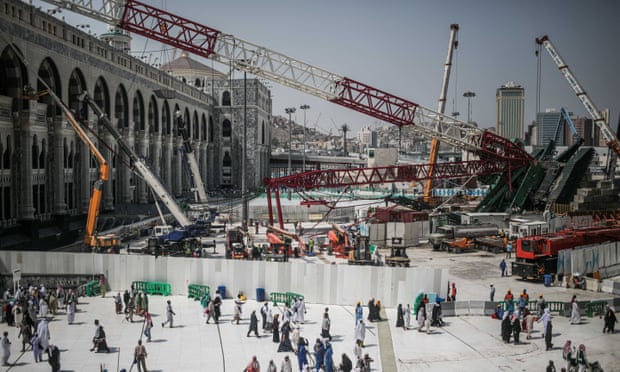 The bodies of two more Malaysian haj pilgrims reported missing after a crane collapsed at Mecca's Grand Mosque have been identified.
Saudi Arabian authorities informed Tabung Haji about the discovery of two more bodies at 3am Monday, said Minister in the Prime Ministers Department Senator Datuk Dr. Asyraf Wajdi Dusuki.
They were identified as Abdul Habib Lahman and Shahidan Saad. Their bodies were identified by their family members at the morgue in Muassim said Dr Asyraf.
He said that at the moment, the priority was to hasten the return of the remains.
"Let us pray that their souls are placed among the righteous," he said in a statement on Monday.
This latest development brings the number of Malaysian fatalities to seven in the tragedy on Sep 11, when a crane toppled over the grand mosque in Mecca.
The crane was part of a massive renovation project that is currently underway to expand the grand mosque, allowing it to accommodate up to 2.2 million people at once.
The accident occurred less than two weeks before the annual hajj pilgrimage on Sept 21, where hundreds of thousand of Muslims will gather at Saudi Arabia's two holy cities, Mecca and Medina as part of a tenent of Islam.
Monday 21 September 2015
http://www.thestar.com.my/News/Nation/2015/09/21/Mecca-crane-disaster-two-more-Malaysians/