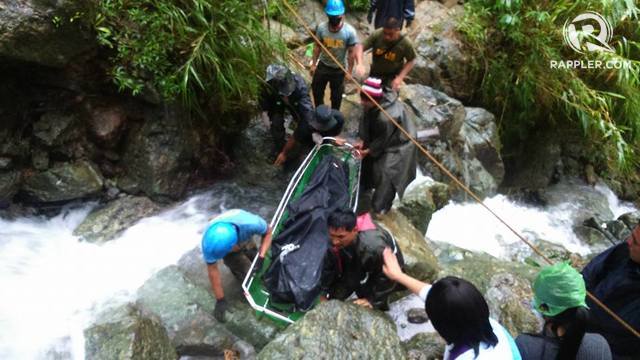 The final body in the Mankayan tragedy which saw scores of small-scale miners and their families buried by a huge landslide was finally found afternoon of Wednesday, September 16. But a snafu in the identification of the bodies may cause the exhumation of some of the bodies.
At about 1 pm, the body of who could have been the financier and leader of the group, Ronaldo Angel of Aurora Province, was found after 6 days. Rescuers in the field, however, said that the body was that of Rocky Mangrobang, who was supposedly found last August 31.
Yesterday, the rescuers, headed by Senior Superintendent Jonathan G. Calixto, commanding officer of the Benguet Provincial Public Safety Company (BPPSC), found the body supposedly of Mark Balicdan but it turned out the body is that of Harold Baturi, who was reportedly found August 31 as well and whose body was sent to Aurora.
Now the rescuers would have to return the body from Aurora as this belonged to Balicdan who is a native of Mankayan.
They are expected to do the same with Mangrobang and Angel.
But aside from the snafu, the recovery of all the missing bodies is a tribute to Calixto's men and almost all the people of Mankayan who had been here since August 21.
Calixto said about 500 people were there every day despite rains and danger of new landslides.
He said some of the villagers already wanted to hold a cleansing ritual and end the search but he was able to convince the volunteers to continue.
They are set to hold a thanksgiving ritual this week.
Friday 18 September 2015
http://www.rappler.com/nation/106137-last-missing-miners-mankayan-retrieved