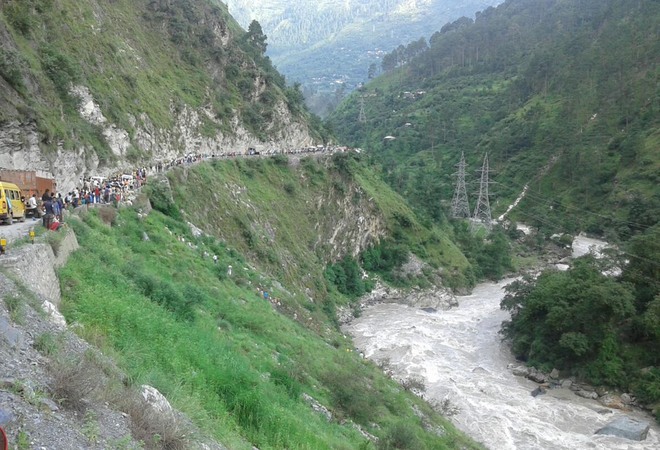 The Kullu administration is pinning hope on the sonar imagery system reaching Manikaran tonight with the 12-member crew of the Navy after the massive search operations to locate the remaining 35 bodies of Manikaran bus accident victims made little headway.
The sonar system and crew from Visakhapatnam is on the way and will reach Kullu tonight and start the search operations for remaining bodies from tomorrow, Special Secretary (Disaster Management) DD Sharma said, adding that eight divers of the Navy were also a part of the 12-member team.
As per the final list, there were 69 passengers in the overloaded 52-seater bus that plunged into the Parbati river on July 22 on the Bhuntar-Manikaran road. Eleven bodies had been recovered, 23 persons were injured in the accident while the search for 35 missing persons was still on, said Deputy Commissioner Kullu, Rakesh Kanwar.
More than 600 personnel from the police, SSB, Indo-Tibet Border Police, National Disaster Response Force, civil defence, Home Guards and divers of the BBMB had been pressed into rescue operations. A large number of relatives and friends of the missing persons from Mansa, Barnala and Bathinda are camping near the accident spot, waiting for a miracle to happen.
The chances of survival of the missing persons, feared to have been washed away in strong currents, are almost remote. But they are just praying for the bodies so that last rights of the deceased could be performed. "We are religious people and that was the reason that my brother went to the pilgrimage to Manikaran but he is still missing and we are desperate to get his body to perform the last rights", said Manjit.
Saturday 1 August 2015
http://www.tribuneindia.com/news/himachal/now-hope-on-sonar-imagery-system/113787.html