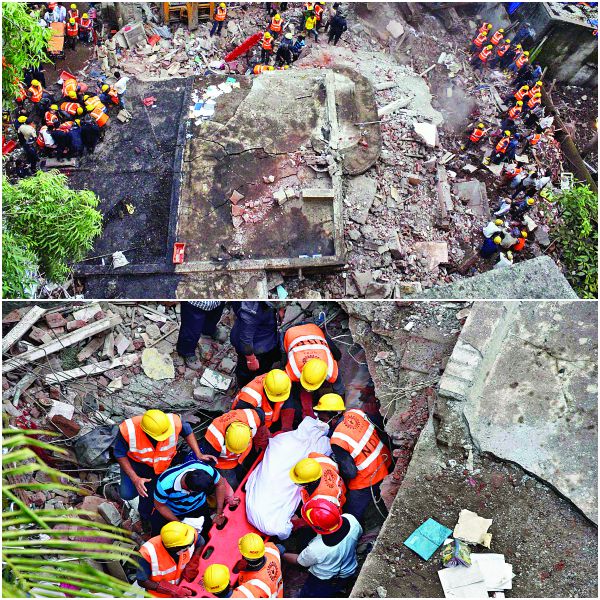 Around 2.30am on Tuesday, while residents of Krishna Niwas were asleep, the 50-year-old building in Naupada collapsed, killing 12 and injuring seven.
An earth-shattering thud awoke everyone in the building as well as vicinity, with locals rushing to the spot and informing local corporator Sanjay Waghole. He alerted the fire brigade and Thane Municipal Corporation's (TMC) disaster management cell. A team of 50 National Disaster Response Force (NDRF) officials from Andheri reached the spot around 4.15am and began rescue operations.
With NDRF's help, fire brigade officials and locals completed the rescue work within eight hours. The injured were taken to Thane civil hospital.
"We used various equipment, including sniffer dogs, who helped us locate victims stuck in the rubble. We also used were air-lifting bags and victim location camera," said Sachidanand Gawde, deputy commander-in-chief, NDRF.
"It was the moral support from locals, some of whom helped us identify where the victims could have been stuck. Our sniffer dogs identified such locations efficiently."
Even before the rescue teams arrived, locals had managed to rescue an 80-year-old, who stayed on the third floor and was recognised by the locals. Nene has suffered head injuries and is recuperating at the hospital.
Interestingly, the three-storey building, located in the heart of the city, was due for redevelopment and, hence, the TMC had not served any evacuation notice to the residents, who were staying here on Pagdi system. This is the second incident of building collapse in a week, the first being the Thakurli collapse in Dombivli on July 28, which killed nine and injured 11.
Sanjay More, mayor (TMC), said, "The building was constructed in 1962. It was due for redevelopment and appropriate steps were taken by owner Hemant Patil. However, due to family disputes of ownership, the matter was sub judice and, hence, no notice was issued to this building. Many residents were saved as the building tilted left and collapsed. Thus, no other building in the vicinity was damaged."
Minister of state for urban development Ranjit Patil, who visited the site, said, "Buildings that have completed more than 30 years should get a structural audit done. All civic bodies need to be alert and take appropriate measures."
Wednesday 5 August 2015
http://www.dnaindia.com/mumbai/report-naupada-building-collapse-kills-12-injures-7-2111163