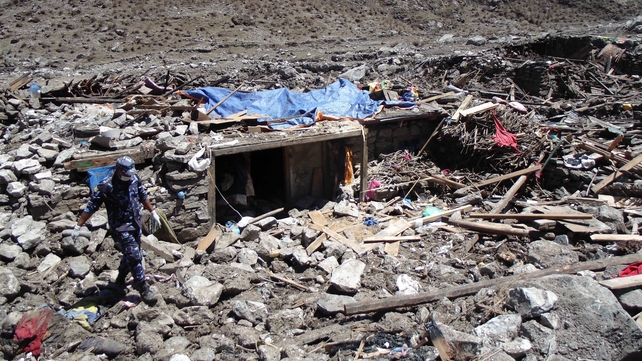 Twenty more bodies have been recovered from Langtang in Rasuwa district three months after the Great Earthquake on April 25. The bodies, retrieved from the landslide debris, have badly decomposed are waiting to be airlifted to Kathmandu for DNA testing, the Home Ministry said on Tuesday.
Chief District Officer (CDO) of Rasuwa Shiva Ram Gelal said the bodies could not be transported to the Forensic Unit of the Tribhuvan University Teaching Hospital on Tuesday due to (TUTH) as the helicopter could not fly in due to adverse weather conditions.
Locals of the Langtang VDC informed the authorities after they discovered the bodies, according to police. Deputy Superintendent of Police (DSP) Prabin Pokhrel of the district said the locals have claimed that the bodies were that of their family and relatives.
More than 100 complaints of missing people had been lodged in the wake of the massive earthquake that devastated Rasuwa district, a major tourist destination. Out of them, 21 are locals, 61 are not native of the district, while 22 are foreigners.
A Home Ministry record shows 660 people were killed by the April 25 quake in Rasuwa district. A total of 8,898 people lost their lives in the earthquake across the country.
The bodies or other human remains of the earthquake victims that could not be identified have been undergoing DNA testing at the Central Police Forensic Science Laboratory (CPFSL) of Nepal Police.
A total of 53 samples have been tested for a DNA match, police said. People can apply for a DNA test to identity the body or mortal remains of their kin by depositing their blood sample at the district police office. The samples will be then forwarded to the CPFSL where they are put through test for a DNA match.
Of the total 12 blood samples of foreigners sent for such tests, the CPFSL has so far identified body parts of five foreigners. No blood samples have been collected from Nepali people, police said.
Samples are collected and processed in bulk for DNA tests because of the cost factor, according to DSP Singh. "We collect at least 50 samples before we put them through the test. The test results will arrive after a month to three months," he said.
Wednesday 5 August 2015
http://www.ekantipur.com/2015/08/05/top-story/20-more-bodies-of-quake-victims-recovered-in-langtang/408945.html