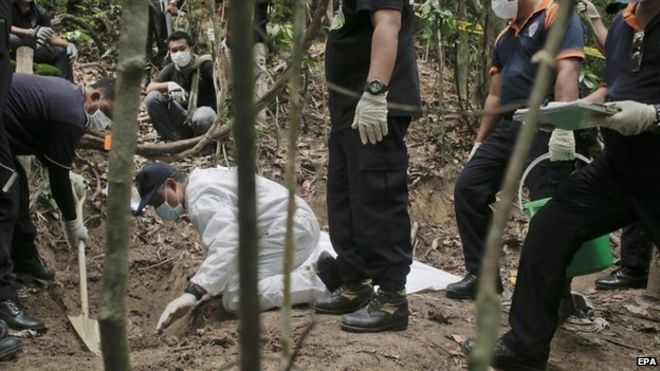 Malaysian police say they have found another 24 bodies of suspected human trafficking victims in jungles bordering Thailand.
Authorities in May said they discovered 139 suspected graves in abandoned jungle camps in northern Perlis state, a remote area bordering Thailand that trafficking syndicates used as a transit point.
Most were believed to be from Burma's persecuted Rohingya minority and impoverished migrants from Bangladesh.
Another 24 bodies have been discovered this week, in addition to 106 bodies found earlier, police said. The bodies have been sent for post-mortem examinations, they added.
The discoveries in northern Malaysia followed similar revelations earlier in May in Thailand, where police unearthed 36 bodies from shallow graves in seven abandoned camps on the Thai side of the border.
The discoveries have exposed hidden networks of jungle camps run by human smugglers, who have for years held countless desperate people captive while extorting ransoms from their families.
Most of the victims were part of a wave of people who fled their homelands to reach countries such as Malaysia, where they hoped to find work or live freely.
Human rights groups and activists say the area along the Thai-Malaysia border has been used for years to smuggle migrants and refugees, including Rohingya Muslims.
In many cases, they pay human smugglers thousands of pounds for passage but are instead held for weeks or months while traffickers extort more money from their families.
Rights groups say some have been beaten to death, and the Associated Press has documented other cases in which people have been enslaved on fishing boats.
Monday 24 August 2015
http://www.independent.ie/world-news/malaysia-finds-24-more-bodies-of-human-trafficking-victims-31471220.html