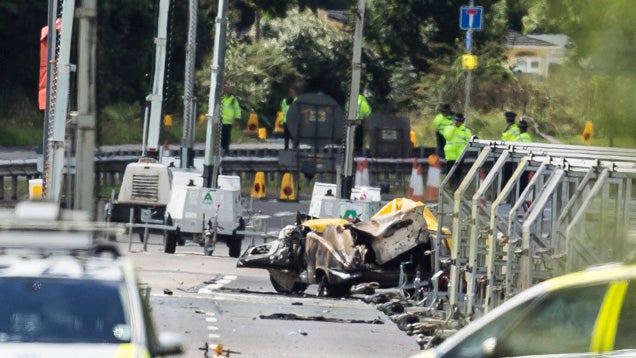 Officials have now identified 11 people who are "highly likely to have died" after a military jet crashed into a busy roadway during an airshow in southern England on Saturday.
The military jet crashed into a busy main road, killing seven people and injuring more than a dozen others, police said.
The Hawker Hunter fighter jet, which was participating in the Shoreham Airshow near Brighton in southern England, hit several vehicles on a nearby road as it crashed Saturday afternoon.
"The numbers are increasing," said Sussex Police Assistant Chief Constable Steve Barry in a statement on Sunday. "We are at 11 that are believed to have been killed as a result of the crash, but we do know that number is likely to rise."
According to the BBC, an additional 14 people were injured in the crash, including the plane's pilot, who remains in critical condition.
Witnesses told local TV that the jet appeared to have crashed when it failed to pull out of a loop manoeuvre.
West Sussex Police said seven died at the scene and one patient with life-threatening injuries was taken to the hospital.
The doomed plane would not be removed from the road until Monday, at which point more bodies could be discovered in the crash site, which is more than 350 yards long, Barry said. All of the victims were on the roadway, and no one attending the airshow was injured, according to Sussex police.
Captain Mike Vivian, the former chief flight operations inspector for the United Kingdom's Civil Aviation Authority, stressed that airshows are highly regulated in Britain, but said "lessons can be learned and will be learned" from the disaster.
"In any accident like this where there is tragedy, it's right to review it in detail," Vivian told the BBC.
Monday 24 August 2015
http://gawker.com/11-now-believed-dead-after-english-airshow-crash-1726052706