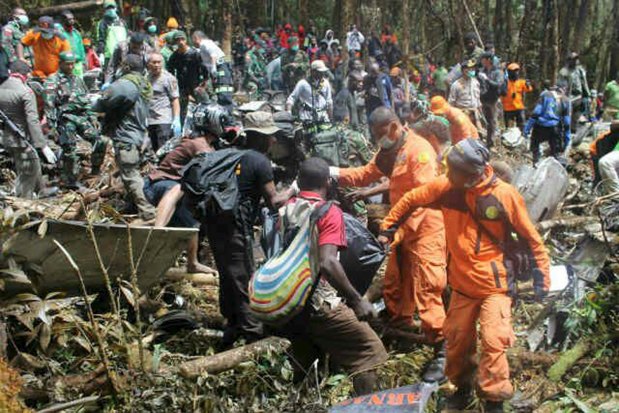 The National Police said on Tuesday they had dispatched three Disaster Victim Identification (DVI) personnel to help identify the bodies of 54 people from a Trigana Air plane that crashed in Oksibil, Pegunungan Bintang regency, Papua, on Sunday.
"The DVI team has arrived at the location. It consists of three specialist doctors, namely a forensic doctor, dental forensic specialist and a DNA expert," the National Police's medical and health center head, Arthur Tampi, said as quoted by Antara in Jakarta on Tuesday.
He said the bodies of all 54 crash victims would be evacuated to Bhayangkara Hospital in Jayapura, Papua, for a postmortem examination."From the crash site, the bodies will be evacuated to the hospital using a helicopter," said Arthur.As part of their postmortem identification process, the National Police have set up a team to collect data from the victims' families.
The data comprises medical and dental records and information on tattoos and surgery marks.
"We will examine the postmortem data and match them with the antemortem data," said Arthur.The Trigana Air PK-YRN aircraft, with flight number IL 267, lost contact on Sunday afternoon and was found "completely destroyed" after it crashed into Mt Tangok in Pegunungan Bintang regency, Papua.
The ATR plane had 5 crew members and 49 passengers on board, including three children and two babies.
Wednesday 19 August 2015
http://www.thejakartapost.com/news/2015/08/18/3-specialist-doctors-help-identification-trigana-victims-police.html