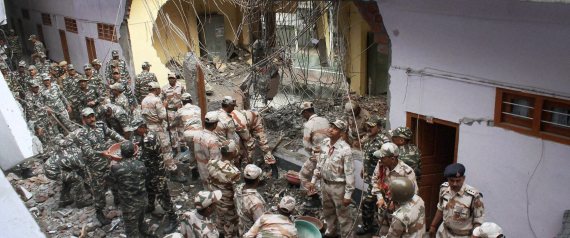 A landslide struck a popular Sikh temple complex in northern India on Tuesday, killing at least ten people and wounding 10 others, police said.
Rescue workers equipped with cutting equipment and sniffer dogs were searching through the rubble for survivors after boulders barrelled down a nearby hill onto the complex in Himachal Pradesh state.
"So far we have recovered eight bodies and 10 people have been shifted to hospital," said Padam Dev, police chief of Kullu district where the accident occurred.
Dev said it was unclear if anybody was trapped, but about 50 pilgrims and temple workers had been inside the complex in Manilkaran town, some 240km from the capital Shimla at the time.
The boulders struck and badly damaged a building adjoining the Gurdwara Shri Guru Nanak Dev Ji, one of the most important pilgrimage sites for Sikh followers.
The temple was built to commemorate the spot where Sikh religion founder Guru Nanak is said to have meditated more than five centuries ago.
Kullu Deputy Commissioner Rakesh Kanwar confirmed that eight bodies which were buried under huge boulders have been extricated while search is on for more.
Eyewitnesses claimed that the dead could be more than 10 in number as a large number of people had taken shelter in the building, close to the Gurdwara, when the tragedy struck.
The exact number of dead or injured could not be ascertained as some bodies are feared to be buried under the debris.
The district administration has sought the assistance of Gurdwara authorities in locating and identifying the bodies as most people staying in the building were outsiders.
People ran helter-skelter as boulders fell on the building and many were trapped as a huge portion of the three-storey building virtually collapsed.
The locals and Gurdwara management immediately swung into action and started rescue operations while Additional District Magistrate, Sub Divisional Magistrate, Kullu and other district officials rushed to the spot.
Those injured have been admitted to zonal hospital at Kullu and condition of seven of them is stated to be serious. DGP Sanjay Kumar said some of the 10 injured and were in a critical condition.
Wednesday 19 August 2015
http://www.thenews.com.pk/Todays-News-1-335033-10-die-as-landslide-strikes-Sikh-temple