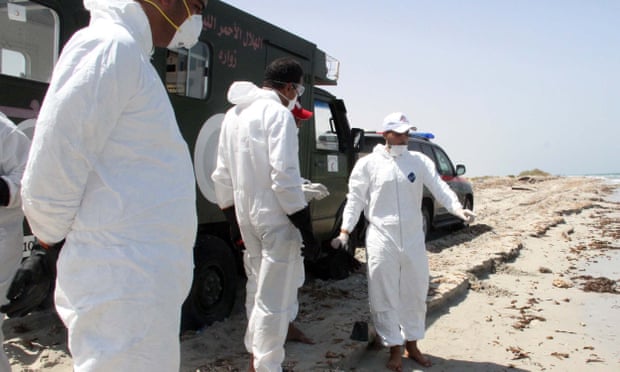 At least 24 Bangladeshis are believed to have been buried in Libya following the capsize of two boats in the Mediterranean Sea off the Libyan coast three days ago.
"The bodies recovered so far have already been buried, including Bangladeshi victims," said Mozammel Haque, counsellor (political) and charge d'affairs of Bangladesh Embassy in Libya.
"The Libyan Coast Guard has so far recovered over 150 bodies from the Mediterranean. They did not allow anyone to identify the bodies," he said.
"We do not know exactly how many Bangladeshi people were there among the dead but we came to know that the Libyan Coast Guard had buried the bodies, including those of Bangladeshis as many of the bodies started to decompose."
The official, however, informed this reporter over phone that they were sure of 24 Bangladeshis among the dead.
All of the 54 Bangladeshis rescued from the boat capsizes informed the Bangladesh Embassy officials that 78 Bangladeshis had boarded two vessels on Thursday night.
Their boats set off for Italy through the Mediterranean Sea. Most of them were with their families. Among them, 22 Bangladeshis were from four families.
"Family members of those four families confirmed that six of their family members had died in front of their eyes.
"While some others who survived the disaster said in the detention centre of Libya that 18 of their family members had been missing since the capsize," Mozammel said.
He believed that no missing person could be rescued alive.
Of the 54 pulled alive out of the sea, 12 women and children have already been taken under the care of the Bangladeshi Embassy, while 42 others are still in the detention centre of the Libyan authorities.
"We are negotiating with the Libyan authorities to bring back those under our custody and at least 25 of those 42 in the detention centre wished to return to Bangladesh."
Bangladeshi migrants in Libya had been passing good days until the present political turmoil erupted.
But over the last one and a half years, they have not been able to send any remittance to the country as the value of local currency dropped rapidly against Dollar due to political unrest, he said.
Against such backdrop these Bangladeshi migrants were heading towards Italy in pursuit of a better life defying the treacherous Mediterranean sea route.
They were lured into the journey by traffickers and middlemen, for which they had to pay 1,000 dinar (approximately Tk60,000) each," Mozammel said.
When asked about the identities of those middlemen, he said most of them were from Libya. But names of some Bangladeshi middlemen also came up in conversation.
"We have already brought those names to the notice of the authorities concerned of our country so that they can take immediate action against them," he said.
Monday 31 August 2015
http://www.dhakatribune.com/bangladesh/2015/aug/31/24-bangladeshi-victims-buried-libya