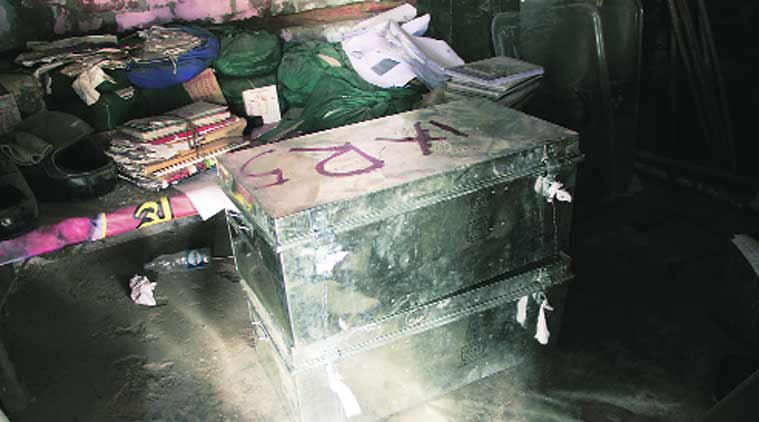 Over the last two months, police in this Haryana district on the edge of NH1, just 20 km away from Delhi, have stumbled upon seven bodies, one bearing burn marks, another showing signs of injuries on the head, one badly mutilated, another cut to pieces.
They haven't yet been able to identify even one, and this is their chilling conclusion: Sonipat is emerging as a "dumping ground" of bodies from outside the state.
The latest, unprecedented spurt started with the sensational discovery on April 6 of the naked bodies of a man and a woman found squeezed into two steel trunks in the parking lot of Tau Devi Lal stadium — the woman's body had wedding bangles, the man had been cut up to fit in.
To identify victims, police put up posters
And then, this is what followed, according to police records:
April 8: The body of a young man was found on the Delhi-Panipat highway with clear signs of injuries on the head.

April 18: The body of a woman was recovered from the Haryana State Infrastructure and Industrial Development Corporation (HSIIDC) industrial estate in Kundli.

April 25: The body of a man was found in Chinoli village.

June 15: The charred bodies of two women were recovered from a burning pile of dried cow dung at Dehisara village.
With no clues yet to their identities — police have taken DNA samples before cremating them — senior officers say Sonipat's proximity to the national capital and Uttar Pradesh have made it vulnerable to what one of them described as the "this macabre dumping" of bodies.
"Gurgaon and Faridabad also share borders with Delhi, but these are urban areas. This is not the case with Sonipat. We suspect that people are being murdered in Delhi or UP and their bodies dumped here," said Shrikant Jadhav, IGP, Rohtak range, who oversees policing in Panipat, Sonipat, Rohtak and Jhajjar districts.
"It's not only in Sonipat, bodies are dumped in areas adjoining NH1 all the way to Panipat," he added. In fact, two bodies were found in Panipat and two in Rohtak, both districts bordering Sonipat, in the last two months — in these cases though, the alleged killers were arrested.
Jadhav added that police have now intensified night patrolling along the highway, dividing areas of Panipat and Sonipat adjoining NH-1 into six segments.
According to police records, over 155 unidentified bodies of suspected murder victims have been found so far across all districts of Haryana this year. In 2014, at least 16 per cent of murder cases in the state remained unsolved.
In Sonipat, meanwhile, the bodies of the two victims stuffed in trunks continue to dominate conversations.
"We tried our best, but we have not been able to get any clue about the identity of the two. We took their fingerprints and even contacted the Unique Identification Authority of India (UID) headquarters in Delhi to seek their help.
Nothing was achieved," said a senior police officer. What's baffling police is that despite the wide publicity that the discovery of these bodies generated, not one family member or friend has turned up.
Haryana Police have also sent messages to their counterparts in the neighbouring states of Uttar Pradesh, Rajasthan and Delhi, seeking help. "There has been no response," the officer said.
To identify victims, police put up posters
A day after the bodies of a young man and woman were found in separate trunks in Devi Lal Park on NH-1, police are yet to identify the victims. In a bid to make a headway in the case, they have put up posters with the deceased's photographs in public places like cinema halls, markets, schools, colleges and dhabas along the highway.
Eight teams from Murthal police station have been sent to neighbouring districts of Uttar Pradesh, Outer Delhi's Bawana, Narela and Alipur areas and districts of Punjab with the deceased's photographs to check if they match with those in the recent missing cases filed in those areas. The photographs have also been shared on police WhatsApp groups and websites. Police have announced a reward of Rs 1 lakh for anyone who identifies the victims or gives leads to the accused.
Deputy Superintendent of Police (Sonipat) Bharati Dabas said: "This is a big case and it is a challenge for us to crack it. We believe somebody will come forward and identify the deceased because of the massive media coverage. The posters should throw up some clues," she said.
Dabas seemed confused regarding the honour killing angle in the case as instances of such crimes in Haryana have drastically gone down in recent times.
"Mindsets have changed. Till a couple of years ago, couples who married within their caste or village and were hounded by furious relatives approached courts for protection and police put them in safehouses. Most safehouses are now empty and cases of honour killings are few," she added.
Head constable Jitender said the state in which the bodies were found suggested that the murders were meticulously planned.
"We usually find bodies dumped in fields or on roads. But to find the bodies in brand new trunks, the man's limbs hacked to fit his body into the trunk, red-and-white bangles of a newly-wed on the woman's wrists—all these point to a group having meticulously planned and executed the double murder in such a way that the honour killing angle seems obvious. It could be angry parents or an irate spouse if it is a case of an extramarital affair," he said.
Police suspect the murders were committed in Outer Delhi and the bodies dumped at Sonipat. "It is unlikely that the killers are from Haryana because then they would have dumped the bodies far from their permanent locations. The murders might have been committed in the Outer district of Delhi or districts on the Yamuna bank at Delhi-Haryana border. The murderers must have driven down the highway and dumped the trunks in the park," said Deputy Superintendent of Police (Gannaur) Satish Kumar under whose jurisdiction Murthal police station falls.
"We are trying to trace the shop from where the trunks were bought. Fingerprints from the trunks have been sent to the forensics team. We have also contacted telecom companies for access to phone calls made after 12 am in the area where the bodies were dumped. However, we are primarily depending on identification of the victims to lead us to the murderers," Kumar reiterated.
Sunday 21 June 2015
http://indianexpress.com/article/india/india-others/on-delhis-edge-a-trail-of-bodies-that-leads-to-nowhere/99/
http://indianexpress.com/article/india/india-others/to-identify-victims-police-put-up-posters/99/