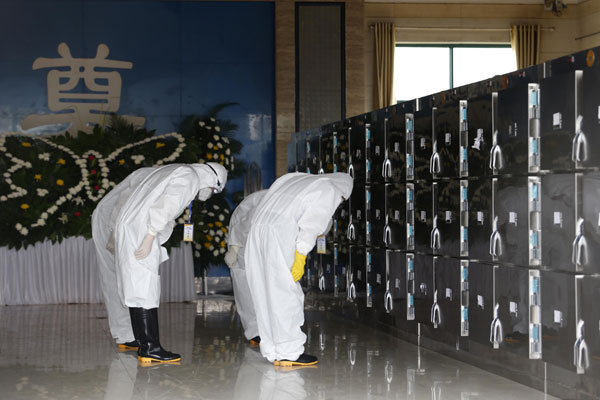 More than 100 morticians have gathered in Jianli county, Hubei province, to complete the somber task of preparing the bodies of the 434 Eastern Star victims for cremation or return to their families.
Zhang Wei, who manages a funeral parlor in Hankou and arrived with 15 morticians, said they would provide special care.
"It is the mortician's job to let every deceased depart with dignity," said Zhang, who has 30 years of experience.
"I exhorted every co-worker to move and clean the bodies with extra care. I asked all of them to put their heart and soul into every procedure in their work."
The cruise ship with 456 people aboard capsized in stormy weather on the Yangtze River on June 1 in the country's worst shipping disaster in 70 years. Only 14 people survived and eight remain missing.
Experienced personnel from several cities-including Tianjin, Guangzhou and Wuhan-gathered in Jianli to ensure that the remains are handled with dignity and respect.
Chen Pin, a mortician from Wuhan who volunteered to help, said she and four other colleagues were extremely saddened when they cleaned the body of a 3-year-old girl, the youngest victim of the disaster.
"I burst into tears when I dealt with the body. When I placed the girl on a workbench, I could hardly control the shaking of my hands. I felt truly sorry for the victims, and most of them were elderly people who are supposed to have had a nice trip," Chen said.
"It's hot in Jianli, and the job is not easy," she added. "We usually started work at 5 am and worked until 10 pm. It took two or three hours to prepare each body. On a couple of nights, we worked till midnight."
DNA samples from the bodies have been collected and more than 100 victims had been identified as of Tuesday morning.
Thursday 11 June 2015
http://www.ecns.cn/2015/06-11/168842.shtml