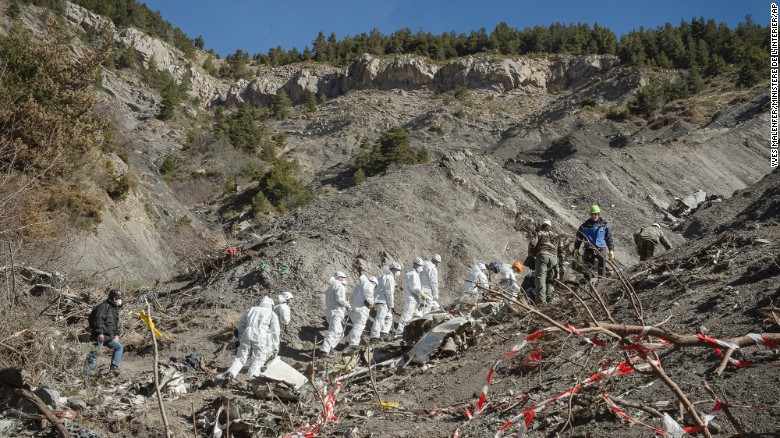 More than two months after a Germanwings co-pilot deliberately crashed his airliner into the French Alps, the families of the 150 people who perished in the disaster had, at long last, been preparing to put their loved ones to rest.
They had already endured weeks of anguish as French gendarmes recovered human remains from among the blackened wreckage scattered across a mountainside and still more as forensic experts then painstakingly isolated the DNA of all who had been aboard the doomed March 24 flight en route from Barcelona, Spain, to Düsseldorf, Germany.
Funeral announcements had been sent. Travel arrangements had been made. In Germany, home to 72 of the dead, preparations were in the final stages for a ceremony at Düsseldorf Airport as early as Tuesday to receive the coffins as they arrived on a dedicated cargo flight from Marseille, France. Police escorts had been ordered to accompany the hearses home.
So it was no small shock when relatives in 17 countries received an email from Lufthansa on Wednesday informing them that the plans had been upended by a bureaucratic mistake in France. The return of the remains, the families were told, had been "temporarily interrupted" for an indeterminate period because of unspecified "new official instructions," a development that dumbfounded and infuriated relatives who had until now largely maintained a stoic public silence.
On Thursday, the families of 16 10th graders and two teachers from a high school in the German town of Haltern am See, in North Rhine-Westphalia, published a statement directing their "rage and despair" squarely at Lufthansa, the parent of Germanwings and the main interlocutor for the families since the crash.
"All this tore away loved ones from families," the statement read. "Must more agony really be added to this pain?"
According to airline and government officials, the delay was linked to the discovery early this week of errors in the information entered into the victims' death certificates, which rendered them invalid. According to one French official, certain details, including birth dates, were incorrectly transcribed or translated into French from their original language on more than a dozen documents.
Lufthansa and Germanwings on Thursday expressed their dismay over the delays and vowed to move forward with preparations for the repatriation while the families waited for new documents. But it remains unclear when the return of the remains can be rescheduled.
"When we have a fixed date, we will communicate this to the families," said Heinz Joachim Schöttes, a spokesman for Germanwings. "We are working hard to be able to have this as soon as possible."
The death certificates had all been signed by Bernard Bartolini, the mayor of the alpine village Prads-Haute-Bléone near the crash site, who along with the mayors of two neighboring villages had been awarded medals from King Felipe VI of Spain on Tuesday during a state visit for their "exemplary" handling of the crash's aftermath.
Mr. Bartolini acknowledged to a German news agency on Thursday that the documents contained typographical and spelling errors, though he indicated that the number of cases was in the low single digits.
The delay set off a broader outpouring of anger by some of the families over the circumstances of the crash and questions about whether the airline could have done more to monitor the mental health of the 27-year-old co-pilot, Andreas Lubitz, and to maintain safeguards against the suicidal intentions of a single crew member.
"Not only because Lufthansa allowed a depressed pilot to fly," the families from Haltern am See said in a statement, explaining their frustration. "Not only because Lufthansa failed to monitor the depression through its medical controls. Not only because Lufthansa, unlike many other international airlines, was too proud" to adopt rules requiring two people in the cockpit at all times.
The new bureaucratic setback comes as prosecutors in Germany are continuing their investigations into Mr. Lubitz's medical history and whether the nature and severity of his psychological troubles were understood by the doctors — including flight doctors employed by Lufthansa — who had seen him in the months before the crash.
Separately, prosecutors in France are moving toward a criminal investigation. They are expected in the coming days to formally appoint an investigative magistrate, who will be charged with determining whether there are grounds to pursue Lufthansa or any of its employees for criminal negligence. Legal experts said that investigation, which is similar to a grand jury proceeding in the United States, could take years.
Since the crash, Lufthansa has begun a thorough review of its pilot selection and monitoring procedures. Meanwhile, a German task force involving airlines, regulators, aircraft manufacturers, pilots, psychologists and other experts has been studying the circumstances that enabled Mr. Lubitz to deliberately crash his plane and how to minimize the risk of such disasters in the future.
Similar working groups have been established over the past month by European Union regulators and by the United States Federal Aviation Administration.
The German task force is expected to publish an initial report this summer, which could include some initial recommendations for changes to cockpit door-locking mechanisms or enhanced psychological monitoring of pilots.
Carsten Spohr, the chief executive of Lufthansa, recently proposed that regulators consider introducing random blood tests of pilots to screen for the presence of medications that can be prescribed for certain psychological conditions.
But many airline and pilot groups remain wary of any rush to introduce new rules which might have unforeseen consequences for air safety.
"All pilots are aware that at least you must take a look into all the details to find a way to reduce the likelihood of this happening again," said Markus Wahl, a spokesman for Germany's largest pilots' union, Vereinigung Cockpit. He stopped short of rejecting the idea of testing for antidepressants or other drugs, but he cautioned that "whatever measures are considered must be checked against the chance that this drives sick pilots underground."
Even if national authorities do manage to eventually agree on new measures, regulators said it could still be years before such steps could be adopted by the international aviation bodies charged with setting global safety standards.
For the families of the Germanwings victims, however, the answers to these larger questions can wait.
At the cemetery in Haltern am See, the city is planting a memorial garden with 18 trees, arranged in a classroom formation, to honor the dead from the town's Joseph-König-Gymnasium high school. As spring turns to summer, bereaved friends and relatives hold out hope that their loved ones can soon be laid to rest in their shade.
"They want to have their children back," said Ulrich Wessel, the school's principal. "And to bury them in their home soil."
Friday 5 June 2015
http://www.nytimes.com/2015/06/05/world/europe/families-of-germanwings-victims-lash-out-as-return-of-remains-is-delayed.html?_r=0