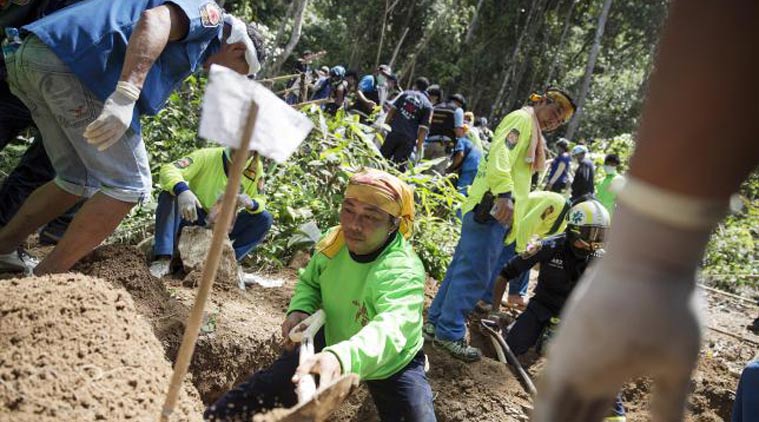 Fourteen more bodies believed to be those of human trafficking victims were found in 12 graves which were exhumed in the Mata Air forest reserve, here today.
According to Perlis Police Chief SAC Shafie Ismail the location, known as Kubur 24 in Malaysian territory, was located about 100 metres from the Malaysia-Thai border.
"Two of the 12 graves contained two bodies. All the bodies were found properly shrouded," he said when contacted, adding that the Kubur 24 location had 91 graves.
A total of 35 bodies had previously been brought out from Bukit Wang Burma in Wang Kelian after the Inspector-General of Police Tan Sri Khalid Abu Bakar announced on May 25 the discovery of 139 graves in 28 camps, believed to have been the transit sites of the human trafficking syndicate.
Shafie said the forensic team and the General Operations Force took more than an hour to bring down the bodies on stretchers and arrived at the Felcra Lubuk Sireh field here at 6.30 pm.
He added that all the bodies were taken by police vehicles to the Sultanah Bahiyah Hospital in Alor Setar for pathology tests.
According to Shafie, if the weather permitted, work to exhume the remaining 79 graves at Kubur 24 was expected to be completed by Tuesday.
He said the main obstacle faced in bringing down the bodies was the rocky and steep terrain which made it impossible to use the services of a helicopter.
Friday 5 June 2015
http://www.themalaymailonline.com/malaysia/article/14-more-bodies-recovered-in-perlis-jungle-graves