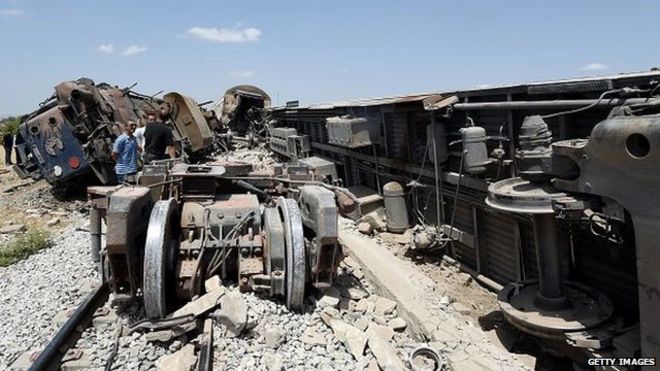 At least 18 people were killed and 98 injured today when a train hit a lorry and derailed at a level crossing in one of Tunisia's worst railway disasters, officials said.
Most of the dead were passengers on the morning rush hour train which hit the lorry in the village of Tabika, around 60 kilometres south of Tunis, the transport ministry said.
"We received the bodies of 17 people," said Riadh Khlifi, director of El Fahes hospital a few kilometres from the accident scene, "and another dead person was sent to Zaghouan hospital".
He added that among the 98 hurt, three were in a critical condition and had been sent to the capital for treatment.
The interior ministry said the train had been en route to Tunis from Gaafour, 120 kilometres to the southwest.
The collision happened at around 6:30 am (0530 GMT).
Transport Minister Mahmoud Ben Romdhane said the accident happened because there was no barrier at the crossing, but this was disputed by the Tunisian National Railway Co (SNCFT).
"The main cause of the accident is the non-existence of a barrier... and protection at the crossing," he told radio station Shems-FM.
"In Tunisia, there are 1,150 rail crossings. Only 250 are equipped with signal posts and barriers and only 150 have lights. This is insufficient."
But SNCFT spokesman Hassen Miaad told Tunisian radio there was "a stop sign and a railway crossing sign at the level crossing".
Train crashes are common in Tunisia, where much of the rail network is dilapidated, but Tuesday's accident was the deadliest in recent memory.
The presidency said it had called for an inquiry "to determine the cause of this catastrophe".
Witnesses spoke of mangled wreckage at the scene and dead bodies strewn across the tracks.
"A very loud noise woke me up. At first I thought it was an earthquake but then I saw this overturned truck and the bodies. Two bodies had their legs ripped off," local resident Habib Fayedh told AFP.
The lorry driver, originally reported to have been killed, survived the collision and was questioned by police before being taken to hospital, Fayedh said.
Wednesday 17 June 2015
http://www.dnaindia.com/world/report-18-dead-98-hurt-in-tunisia-train-collision-with-lorry-2096282