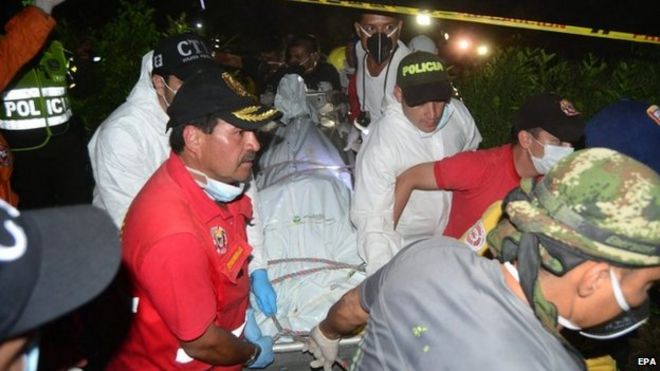 Rescuers Friday said they had found six bodies in a collapsed, unlicensed gold mine on an indigenous reservation in a central Colombian town.
Another nine miners were believed to still be missing after the accident on Wednesday in the northwestern town of Riosucio, where authorities are carrying out an investigation of the mine.
Rescuers were working into the evening to retrieve the sixth miner's remains, hours after the recovery of a separate body sapped the hopes of anxious relatives that more of the missing might still be found alive.
The first two bodies were spotted Thursday, with rescuers finding two more several hours later.
The workers are believed to be trapped in shafts 17 meters (55 feet) below ground.
The bodies were taken to the city of Pereira to be identified.
Search and rescue operations are due to be completed over the weekend, according to government disaster relief agency UNGRD.
The mine collapse occurred after a power failure prevented the operation of the pumps that drew water from the nearby Cauca River.
The head of the National Mining Agency told Radio Blu the organization would look into the the owners of the mine, which was in the process of legalization but was prohibited from digging the shafts that were involved in the collapse.
Investigators say a power cut in the area likely shut off the mine's water pumps, flooding the shafts and leading to the collapse.
The workers at the mine had no formal contract with the company for their high-risk work, the mining agency said in a statement.
Colombia is a major gold producer and business has boomed over the past decade as the price of gold has risen from less than $400 per ounce to almost $1,200.
Saturday 16 May 2015
http://news.yahoo.com/four-dead-colombia-mine-collapse-11-still-trapped-175019213.html