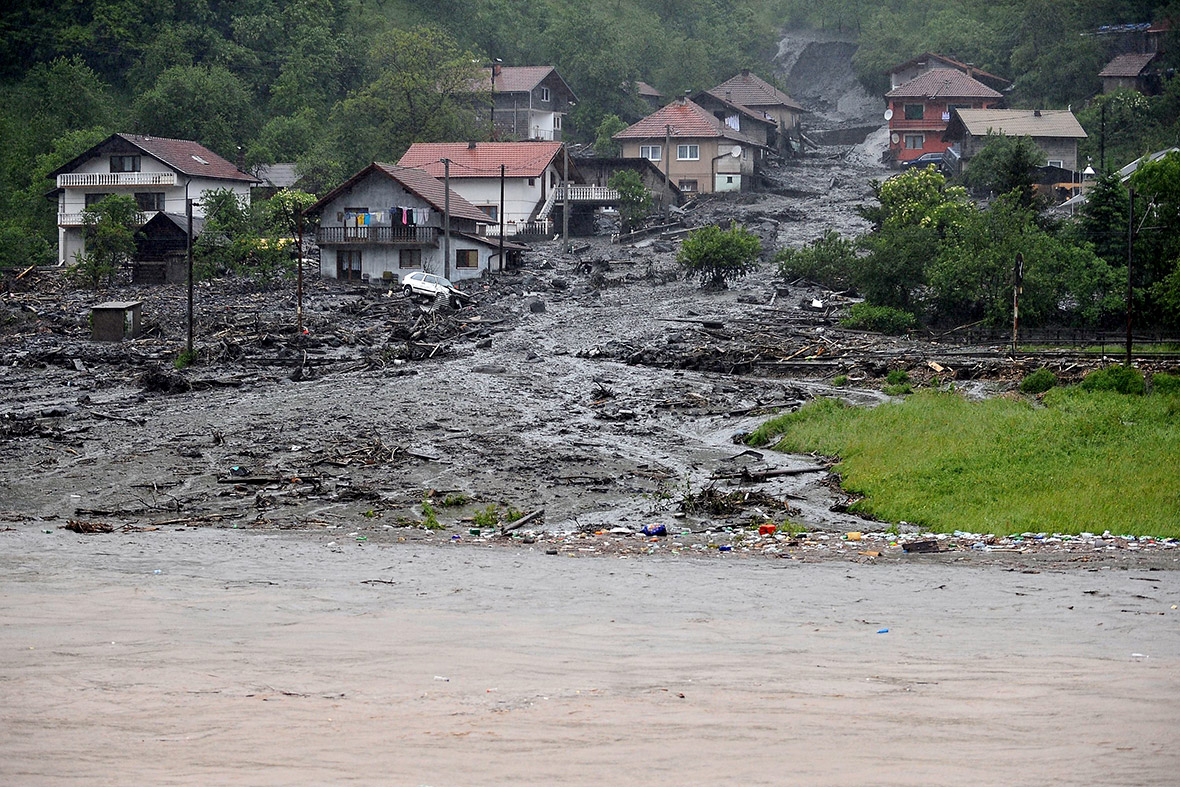 Record flooding in the Balkans has killed 20 people in Serbia and Bosnia this morning. Emergency services pulled dead bodies from flooded homes as tens of thousands were forced to flee, authorities said.
Soldiers worked to free hundreds of people blocked inside a school in Serbia, due to what meteorologists say is the worst flooding since records began 120 years ago, after three-months' worth of rain fell on the region in just three days.
Obrenovac, 18 miles south-west of the Serbian capital Belgrade, is the worst hit, with water depth reaching up to three metres in the streets, and seven dead bodies found.
The city is completely underwater and residents reportedly stood on roofs and terraces waiting to be rescued. The main priority for the Serbian army was to evacuate 700 people, mainly women and children, from a primary school located on higher ground.
Thousands of volunteers joined the Serbian soldiers in building sandbag flood defences around the town of Sabac do to the flood danger presented by the river Sava.
In Serbia, 95,000 homes are without electricity right now, with the country's energy system is near breaking point.
In Bosnia, 13 bodies have been found in the eastern town of Doboj and in Samac, in the north part of the country, during rescues this morning.
"I'm afraid that won't be the end," Bosnian Serb leader Milorad Dodik told to a news conference held this morning in Belgrade, alongside with the Serbian authorities and Aleksandar Vucic, the Serbian prime minister.
In the eastern Bosnian town of Bijeljina, 10,000 people are being evacuated and accommodated in schools. Helicopters evacuated people from the north Bosnian towns of Samac and Modrica and trucks are carrying food and blankets to the hardest hit areas.
About 1,000 people, including babies, pregnant women, disabled people and the elderly have been transferred in safe places from the region of Zeljezno Polje in central Bosnia, where several villages have been destroyed.
The flooding of the Kolubara, the Danube and the Sava rivers creates several problems to coal-fired power plants, causing a fire inside the Kolubara power complex, which has been closed since Thursday.
Saturday 17 May 2014
http://www.independent.co.uk/news/world/europe/serbia-and-bosnia-floods-at-least-20-dead-in-worst-flooding-since-records-began-9390263.html