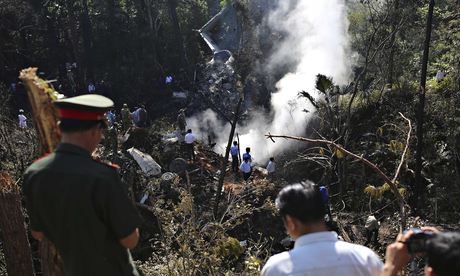 A Laos air force plane carrying senior government officials has crashed, killing the country's defence minister and at least five others.
The plane came down in a forested area of Xiangkhoung province, near one of Laos's major archaeological sites, the Plain of Jars, the Thai foreign ministry spokesman Sek Wannamethee said.
Laos National Television showed images of the aircraft with smoke rising from its charred remains.
The defence minister, Douangchay Phichit, was one of the country's deputy prime ministers and a high-ranking member of Laos' Politburo, the main decision-making body for the nation's ruling Communist party. Also among the dead were his wife, the governor of the capital of Vientiane, Sukhan Mahalad, and two other senior officials.
The Russian-made plane left the capital early on Saturday morning, heading for an official ceremony in the north-eastern province of Xiangkhoung, about 290 miles away.
The cause of the crash is not yet clear, but a witness said the plane crashed just over a mile away from the airport where it was due to land.
Around 20 people were believed to have been on board, according to Nipat Thonglek, the Thai defence ministry's permanent secretary. He said he was given the information by authorities in neighbouring Laos who did not immediately release details of the other passengers.
Thailand's Thai Rath newspaper identified the plane as a Russian-made Antonov AN-74.
"A Laos air force plane has crashed on its way to Xiangkhouang province in the north of the country. The mayor of Vientiane, the defence minister of Laos and his wife were on board," an official told Reuters.
Thailand's foreign ministry said it had been informed by Laos's government that the plane had crashed at 6.15am.
Laos is one of the poorest countries in Asia, under its authoritarian communist one-party government, and has a poor track record on air safety. Last October a civilian plane crashed into the Mekong river, killing all 49 people on board.
Saturday 17 May 2014
http://www.theguardian.com/world/2014/may/17/laos-plane-crash-kills-defence-minister-wife-officials