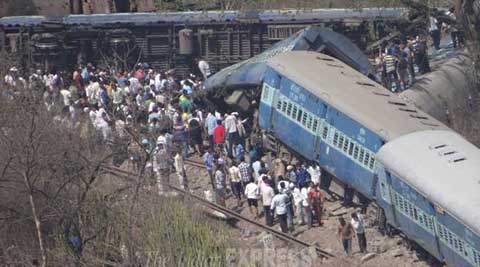 Railways witnessed another train mishap on Sunday after a passenger train derailed on Konkan Railway route in Raigad district, killing 15 people and injuring 50 others.
The incident took place just outside a tunnel near Nidi village, when the engine of Diwa-Sawantwadi passenger train and four bogies derailed at around 10 AM between Nagothane and Roha railway stations.
Sunday's train accident is the latest in a line of tragedies to have hit the Indian railways. Following is the chronology of major train mishaps in recent years:
February 17, 2014
: Three passengers were killed and 37 others injured when ten coaches of a train derailed at Ghoti near Igatpuri in Nashik district. The mishap took place at around 6.20 am when 12618 Nizamuddin-Ernakulam Lakshadweep Mangala Express train was passing through the Ghoti-Igatpuri section, about 35 kms from Nashik.
January 08, 2014
: Four persons were charred and five died due to suffocation after three sleeper coaches S2, S3 and S4 of the Bandra Dehradun Express were gutted in fire. The incident occurred between Dahanu Road and Gholvad station near Surat. While the cause of the fire was yet to ascertained, senior railway officers ruled out short circuit.
December 28, 2013
: Twenty six people, including two children, were killed and 12 others injured when a fire broke out in the AC 3-tier B-1 coach of the Bangalore-Nanded Express train at Kothacheruvu near Puttaparthi in Anantpur district of Andhra Pradesh. According to Railway officials who inspected the gutted coach, the area near berth 64, where the coach's power panel was located, did not seem to have been burnt. According to reports, the fire broke out at 3:10 am, when most of the 65 passengers were sleeping. Some managed to escape by breaking the window panes or running to the next coach. The train was stopped and the B-1 coach detached to stop the fire from spreading.
November 02, 2012
: The Raigarh-Vijaywada train ran over 8 people at Gotlam railway station in Vizianagaram district in Andhra Pradesh. August 19: At least 37 pilgrims including women and children standing on rail tracks were killed when a speeding express train ploughed into them in Bihar's Khagaria district. The 'kanwarias' (devotees of Lord Shiva) were on the tracks after alighting from the Samastipur-Saharsa passenger train when they were run over by the Saharsa-Patna Rajyarani Express travelling at 80 kmph.
June 30, 2012
: Thirty-five passengers were charred to death and 25 others injured when a fire broke out due to a short circuit in a coach of the New Delhi-Chennai Tamil Nadu Express near Nellore in Andhra Pradesh. Thirty-two bodies were recovered from the charred S-11 bogie of the train. According to Nellore district officials, the fire was noticed by a gateman at around 4.15 A.M who alerted officials.
May 31, 2012
: Howrah-Dehradun Doon Express derailed near Jaunpur killing seven people.
May 22, 2012
: Twenty-five people were killed when the Banglore-bound Hampi Express collided with a stationary goods train in Andhra Pradesh's Anantapur district.
March 20, 2012
: Mathura-Kasganj passenger rammed a min bus at an unmanned level crossing near Hathras station killing 15.
January 11, 2012
: Five persons were killed and nine others, including a child, injured in a collision between the Delhi-bound Brahmaputra Mail and a stationary goods train.
Nov 22, 2011
: Seven people were burnt to death when the Howrah-Dehradun express caught fire in Giridih in Jharkhand.
July 10, 2011: Kalka mail derailed at Malwa station killing 71.
July 7, 2011
: Mathura-Chapra Express rammed a bus at an unmanned crossing near Patiayali station killing 39.
May 22, 2011
: Garibrath Express rammed a Bolero at an unmanned level crossing near Madhubani station killing 20.
Oct 20, 2010
: Indore-Gwalior Intercity express collided with a goods train at Badarbas station killing 24.
July 19, 2010
: Speeding Sealdah-bound Uttarbanga Express rammed into the Vanachal Express at Sainthia station in Bhirbhum district killing 66 people.
May 28, 2010
: At least 150 people were killed after Gyaneshwari Express was derailed by Naxals in West Midnapore district of West Bengal.
January 2, 2010: Prayagraj Express collided with Gorakhdham Express from its rear portion near Panki station killing 12.
November 1, 2009
: Gorakhpur-Ayodhya passenger train hit a truck at unmanned level crossing near Tikri station, killing 18 people.
October 21, 2009
: 23 persons were killed when Goa Express hit Mewad Express from behind near Mathura station killing 23.
April 28, 2009
: Tanakpur-Kasganj passenger train hit a bus at an unmanned level crossing near Ghatpuri station killing 11 people.
February 22, 2009
: A local passenger-train hit a Bolero in an unmanned level crossing near Barapalli station killing 15 people.
January 25, 2009
: Kanpur-Allahabad train rammed a truck near Unchahar station killing 12 people.
Sunday 04 May 2014
http://indianexpress.com/article/india/india-others/chronology-of-major-train-accidents-in-recent-years/