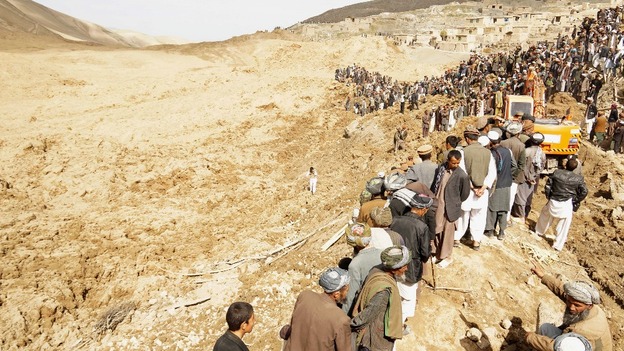 Up to 255 victims were identified out of hundreds of villagers buried under their collapsed houses in a deadly landslide Friday in northern Afghan province of Badakhshan, a provincial disaster official said Saturday.
"We have talked to relatives of victims. The disaster management department only find and registered the identification of 255 buried people out of hundreds trapped villagers in Aab Bareek village landslide of the Argo district ," Sayyed Abdullah Homayyon Dehqan, provincial director of disaster management department, told Xinhua.
He corrected earlier reports that 255 bodies were retrieved. Only three bodies were recovered, including a women and a child, he said.
The remote village located a four-hour drive from provincial capital Faizabad city, 315 km northeast of Afghan capital of Kabul.
The natural calamity was triggered by recent heavy rains in the mountainous province.
Earlier in the day, Afghan President Hamid Karzai issued an order announcing Sunday, May 4, as a national mourning day to observe the catastrophe, presidential spokeswoman Adela Raz said in her twitter account.
"There are around 1,000 houses in the village. Over 300 homes are buried. The rescue teams are still in the fear of mudsliding at the site until now," Dehqan noted.
More than 2,100 people were confirmed dead following two mudslides within an hour on midday Friday, provincial government spokesman Ahmad Naweed Froutan told local media.
No official statement was released by government to confirm the exact number of deaths as of Saturday night.
"Our estimates show that hundreds of people were buried under the mud and rubble triggered by landslide. It has been very difficult to give you a clear number of deaths and missing now," disaster official Dehqan said.
More than 4,500 villagers were evacuated to higher locations in the area surrounded by muddy hills and are living in tents. Rescue teams and security forces are distributing food and clean water to them, Dehqan said. Over 230 tons of flour had reached the village and would be distributed to villagers soon.
"I had gone to village bazaar. After I backed I could not find my home. My house turned to a grave for my four children and wife. They are under tons of mud. I cannot see their dead bodies. I do not know where to stay tonight," Peer Qual, the only survivor of a family, told Xinhua at the site.
Sunday 04 May 2014
http://english.cntv.cn/2014/05/04/ARTI1399162866729620.shtml