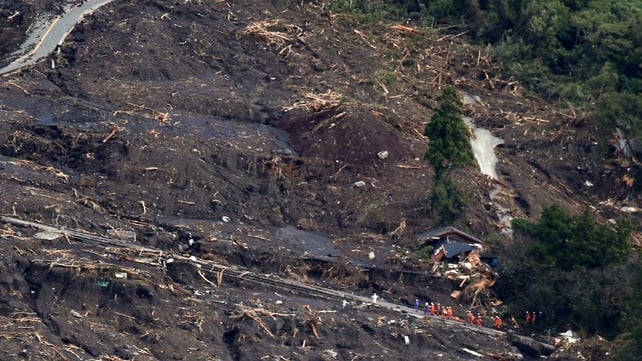 The death toll from a typhoon that triggered massive landslides on a Japanese island rose to 29 on Saturday, as officials advised residents to take shelter in anticipation of more heavy rain.
Around 1,200 troops, firefighters and police searched for 22 island residents who remained missing after typhoon Wipha struck Oshima island, 120 kilometres (75 miles) south of Tokyo, on Tuesday.
The powerful typhoon set off mudslides that buried some 30 houses and damaged more than 300 structures on the small island.
"Two more bodies were pulled today," bringing the death toll on Oshima to 27, said a spokeswoman for the island's administrative office.
Combined with two other deaths in and near Tokyo, the total death toll from Wipha in Japan has reached 29.
Island authorities Saturday advised around 1,900 residents living in the areas worst hit by the landslides to evacuate to designated school gyms and community centres, as a precaution against expected heavy rains and further landslides.
Saturday 19 October 2013
http://www.nst.com.my/latest/japan-typhoon-death-toll-rises-to-29-1.379941