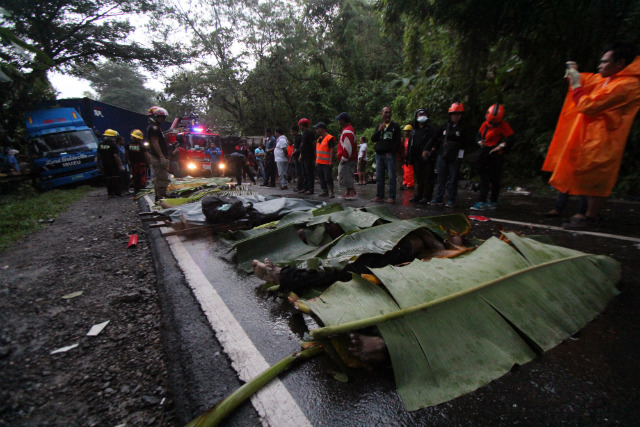 Nineteen people were killed and dozens injured on Saturday, October 19, in a pile-up on an unlit highway in Atimonan, Quezon province. The accident involved 3 buses and 4 trucks.
In a statement, the police said that the accident was caused by a Manila-bound bus driver losing control of the vehicle before dawn.
The police added that 34 other people, many of them bus passengers, were injured. The driver of the runaway bus, who was unharmed, was arrested.
The road accident occurred along Maharlika highway.
In July, a collision between a delivery van and a truck occurred along the same road. The driver of the delivery van was reported dead on the spot by the Philippine News Agency.
Pictures of the accident taken by Rappler contributor Jose Del show local responders retrieving body parts of the dead.
The bodies of the victims were arranged side by side on one lane of the road, covered only by banana leaves.
The incident occured at around 1 am, the National Disaster Risk Reduction and Managment Council said.
Victims were rushed first to Emil Joanna General Hospital and Doña Marta Memorial District Hospital in Atimonan. Others were tranferred to the Gumaca District Hospital and the Jane County Hospital in neighboring town Pagbilao due to the number of casualties.
The collision involved 8 vehicles: a 10-wheeler truck, a closed-van container truck, a jeepney, 3 buses, and two elf-type, closed vans.
Warning signals have been installed, and policemen are deployed to reroute traffic.
Saturday 19 October 2013
http://www.rappler.com/nation/41736-dead-atimonan-road-pile-up