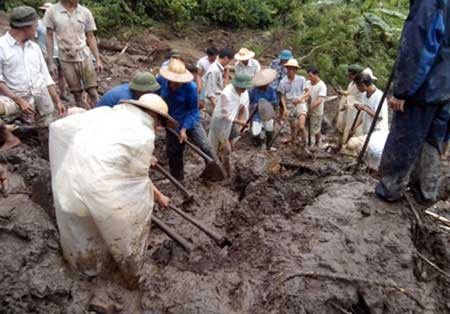 Emergency teams recovered the two bodies early this morning. They also rescued the other 11 people, who were injured and taken to hospital.
The headmaster of Ban Khoang Secondary School said the teachers were in several bungalows next to the school.
The disaster occurred as floods and landslides followed heavy rains ravaging the province's Sapa District.
Reports say that all the bungalows were swept into mountain creeks.
Rescue teams and local people have been mobilized to search for the remaining victims.
Earlier, flash-floods killed three people in the upland Phong Tho District of northern Lai Chau Province.
According to the National Centre for Hydro-meteorological Forecasting, heavy rains are forecast to continue in northern provinces in the next few days.
Whirlwinds and flash-floods are also a possibility.
A low-pressure system is behind the heavy rains.
Three people died in the mountainous Phong Tho District of northern Lai Chau Province after flash-floods and a landslide ravaged the area from Tuesday evening to early yesterday morning.
The heavy rain caused significant damage to houses in eight villages and may continue over the next few days, according to the provincial Steering Committee for Flood and Storm Prevention.
Thursday 5 September 2013
http://english.vietnamnet.vn/fms/society/83643/flood-disaster--25-swept-away--two-die--11-missing.html