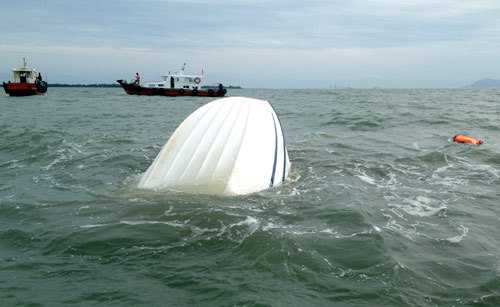 Rescuers have recovered the bodies of three women and six men who died after a motorboat capsized in rough conditions off the Ho Chi Minh City coast last Friday.
Twenty one others who were rescued are reported to be in stable condition after treatment.
At around 9 p.m. on Friday the boat carrying 30 employees of the PetroVietnam Steel Pipe Joint Stock Company capsized and sunk due to strong winds and waves some 7.5 nautical miles off Can Gio District.
The vessel, which had come from the Mekong Delta province of Tien Giang, was heading for the beach city of Vung Tau for the weekend.
After receiving distress signals from the boat, the Area III Marine Rescue and Research Center in Ba Ria – Vung Tau Province rushed rescue vessels to the spot and managed to save the 21 people, who included an American couple.
By early Saturday morning rescuers had found the ill-fated boat but not the nine people, including helmsman Pham Duy Phuc, who were missing.
At 11:40 a.m. the first missing person, a woman named Nong Thi Thien, 34, was found inside the vessel.
By Monday morning all nine bodies were found.
Authorities are investigating the accident.
Tuesday 6 August 2013
http://www.thanhniennews.com/index/pages/20130805-9-bodies-recovered-after-boat-sinks-off-vietnam-metro-coast.aspx