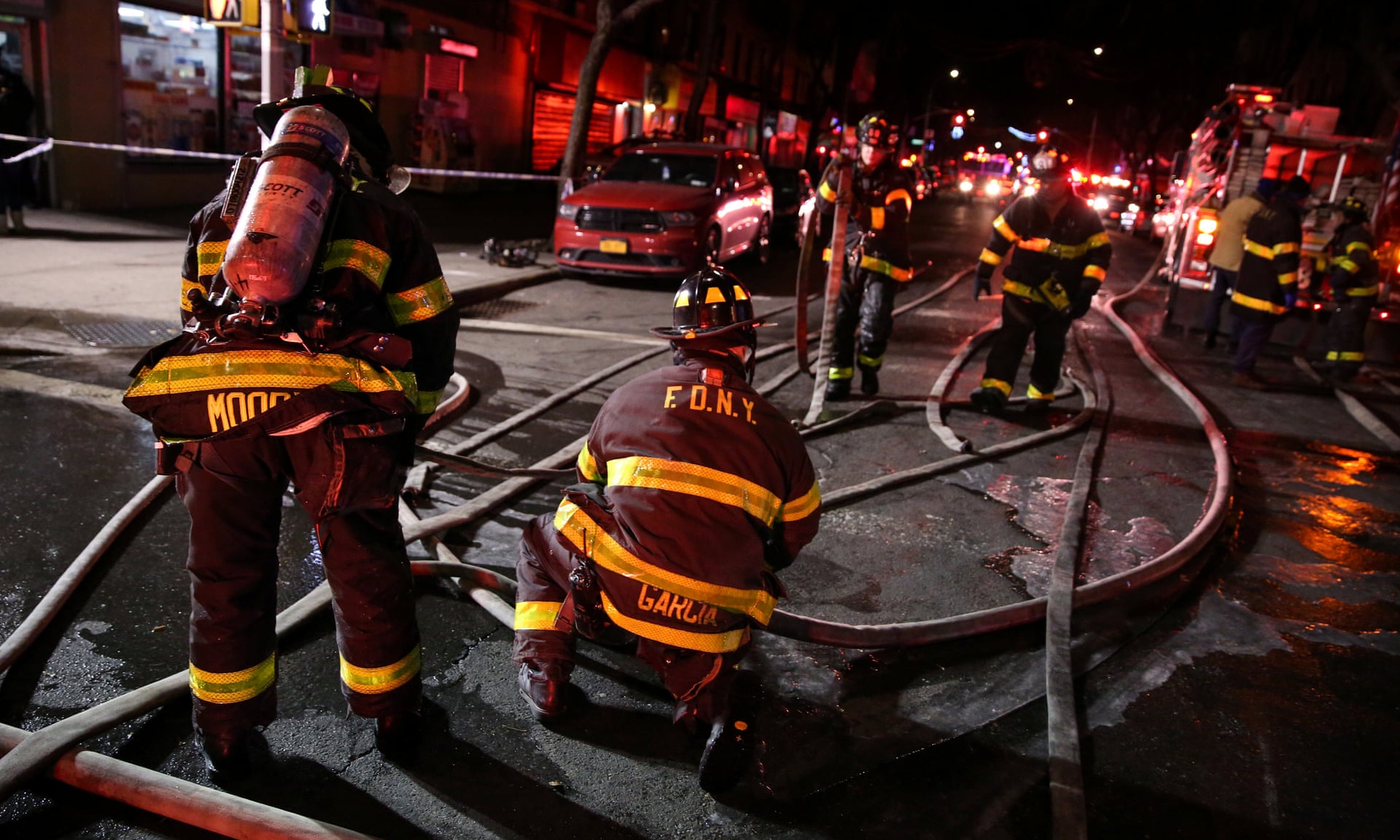 At least 12 people, including a child, have died in a blaze at a Bronx apartment building on a frigid night, New York City's mayor has said.
Calling it an "unspeakable tragedy", Bill de Blasio said one of the victims was an infant and four other people were critically injured. Visiting the scene, the mayor said: "This will rank as one of the worst losses of life to a fire in many, many years."
He praised firefighters for saving 12 people from the blaze, which is now under control after breaking out just before 7pm at a five-storey building a block from the Bronx Zoo.
Fire Commissioner Daniel Nigro called the fire, "historic in its magnitude", because of the number of lives lost. "Our hearts go out to every person who lost a loved one here and everyone who is fighting for their lives," he said.
Nigro said the fire started on the first floor and quickly spread upstairs. People died on multiple floors, and ranged in age from one to over 50.
More than 160 firefighters worked in bone-chilling cold, just 15 degrees, to rescue people from the building as the fire quickly spread. A nearby school has been set up to shelter evacuees on a bitterly cold night. Water sprayed from hoses froze into ice on the street.
Witnesses recounted their ordeal. Fifty-nine-year-old Thierno Diallo said he was asleep in his ground-floor apartment when he heard banging on the door. He said he heard people screaming, "There's a fire in the building!", prompting him to run out in his bathrobe, jacket and sandals.
Ana Santiago, who lives in an adjoining building, told the New York Times she fled when she smelled the smoke and saw young girls who had escaped the fire standing on the fire escape in bare feet with no coats.
Neighborhood resident Robert Gonzalez, who has a friend who lives in the building, said she got out on a fire escape as another resident fled with five children. "When I got here, she was crying," Gonzalez said.
Windows on some upper floors were smashed and blackened. "The smoke was crazy, people screaming, 'Get out!," a witness, Jamal Flicker, told the New York Post. "I heard a woman yelling, 'We're trapped, help!"
According to city records, the building had no elevator. Fire escapes were visible on the facade of the building.
One of New York's deadliest fires in recent memory happened elsewhere in the Bronx in 2007. Nine children and one adult died in a blaze sparked by a space heater.
Friday 29 December 2017
https://www.theguardian.com/us-news/2017/dec/29/new-york-fire-bronx-apartment--deaths