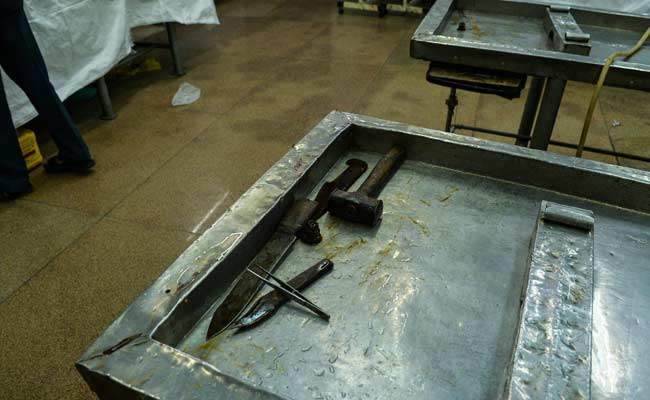 The long and short story when a person dies is that he or she is given a proper last rite. But imagine the grief of the family which could not find or identify the bodies of the beloved ones who had died.
Their dilemma is while unable to accept the on the loss, they have an added emotional stress on whether the last rite must have taken place — according to their traditional practices or not — in the event that the body is disposed of as unidentified.
Enter 64-year-old legal consultant Prakash Gidwani — the man who collects unclaimed bodies and ensures that they get a decent funeral irrespective of the religion the dead person might have followed.
Gidwani, a member of the disaster managment cell of BMC, collects the unclaimed bodies from various hospitals in Mumbai.
He has been doing this yeoman service for since the last 34 years. Gidwani said he has performed funerals of over 1,000 bodies so far.
With the help of his associates, Gidwani also pulls out bodies — mostly decomposed — found near the sea shore and informs the local police station as well as the fire brigade.
"I have been doing this social work since 1980. We recover bodies that generally get washed away in sea. Most of such bodies are highly decomposed. After following certain legal procedures, like registration of accidental death case at the police station concerned, we wait till establishment of his/her identity. The unclaimed bodies are generally kept at mortuaries for 15 days. Meantime, we try to find out if any missing complaint has been registered in any police station. Eventually, when we don't get any lead to establish its identity we conduct its funeral with due respect," said Gidwani.
He said the BMC provides only 300 kg bundle of firewood for funeral of a body. Gidwani has though some disillusionment in his work. He said mortuary vans overcharged while ferrying decomposed bodies to hospital.
"They demand Rs. 12,000 to take a decomposed body found near the sea shore because of its stench. So we have arranged one vehicle for the purpose," he said.
Further, the duty officer of a police station gets Rs. 1,500 to conduct the final rites of an unclaimed body. But the procedure to get Rs. 1,500 reimbursed is so lengthy that most of the officers contact Gidwani to shrug off their responsibilities.
Nonetheless, Versova-resident Gidwani feels peace and blissful in cremating the unclaimed bodies with dignity.
"In this fast pace world where modernisation is at the centre, most families have become nuclear and senior citizen parents feel neglected. Such parents leave home in distress either to commit suicide or search shelter in old-age homes. We too take care of such parents by providing them better medical assistance before reuniting them with their children," Gidwani said.
Gidwani further said to show respect to victims of the 26/11 Mumbai blast, he provided shrouds (kafan) to wrap the bodies before their funeral.
27 August 2017
http://www.freepressjournal.in/mumbai/meet-prakash-man-who-conducts-last-rites-of-unclaimed-bodies-with-respect/1127589