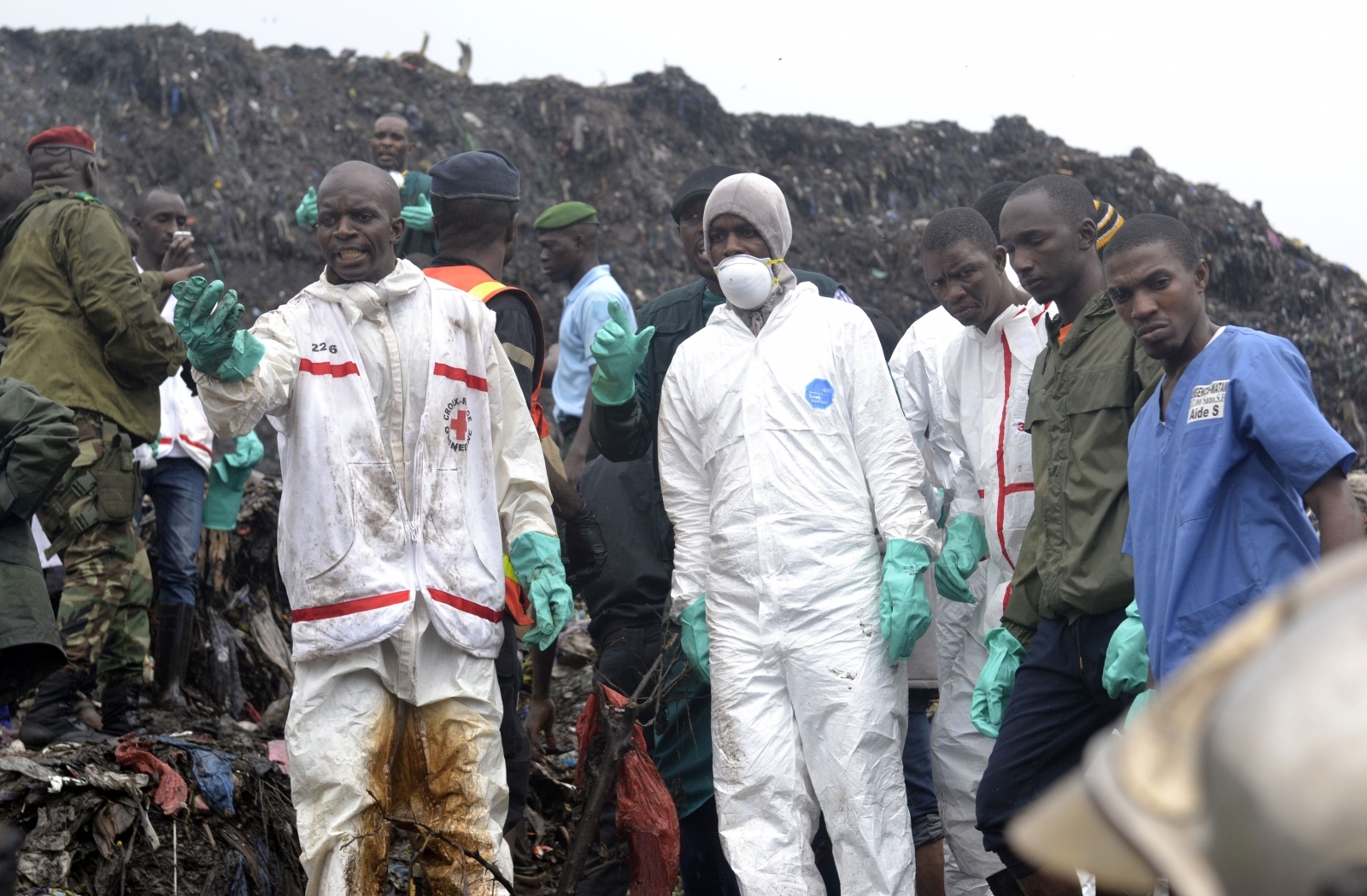 At least eight people, including two children, have died in Guinea after a rubbish dump site collapsed on houses due to heavy rains.
Dozens were also injured in the incident, which occurred on the outskirts of the capital Conarky on Tuesday ( 22 August).
The landslide submerged houses in the Dar Es Salam neighbourhood after an overnight deluge.
The bodies of the victims were taken to the local morgue. The death toll is expected to increase.
"The rubbish fell onto three homes," senior police official Boubacar Kasse, the police commissioner for Conakry, told AFP.
"There are still many people buried, and we have to do everything possible to save them. We have to get diggers in. Access to the area is very difficult," he continued.
Rescue teams are looking for survivors.
"Currently rescue operations are under way," the government said in a statement quoted by Reuters. "On this sad occasion, the government addresses its deepest condolences to the victims' families."
Dar Es Salam resident Yamoussa Soumah said: "I saw the mountain of garbage collapse on other people's houses. People were trapped. My wife and I heard the mud begin falling on our roof. We were able to escape, but we've lost everything."
Similar incidents have occurred in several countries across Africa in recent months.
Some of these countries are among the continent's poorest nations. They are vulnerable to heavy rainfalls and prone to national disasters due to a lack of urban drainage, and the fact that many houses – mostly ramshackle – are built on slopes.
At least 200 people were killed in a landslide in the Democratic Republic of Congo (DRC) earlier in August. The incident occurred in the Tora village, situated along Lake Albert. The local governor called for the help of the international community to step up search and rescue operations.
"There are many people submerged whom we were unable to save," Pacifique Keta, the vice governor of Ituri province, told Reuters on 18 August. "The rescue is very complicated because there are mountains everywhere, which makes it very difficult to have access."
Around 500 people died in Sierra Leone's capital Freetown after torrential rains caused flooding and a massive mudslide on 14 August, leaving hundreds of survivors homeless.
The Red Cross said at least 600 people are still missing and search-and-rescue operations are ongoing.
Health workers warned of an impending health crisis as corpses had been left in the out in the street before mass burials took place.
What has been labelled as one of Africa's worst natural disasters of recent years took place months after at least 72 people were killed when a rubbish dump collapsed in Ethiopia.
The disaster at the Koshe Garbage Landfill, on the outskirts of the capital Addis Ababa, occurred on 12 March and destroyed makeshift houses at the site.
23 August 2017
http://www.ibtimes.co.uk/landfill-collapse-kills-eight-guinea-family-homes-are-buried-by-garbage-1636279