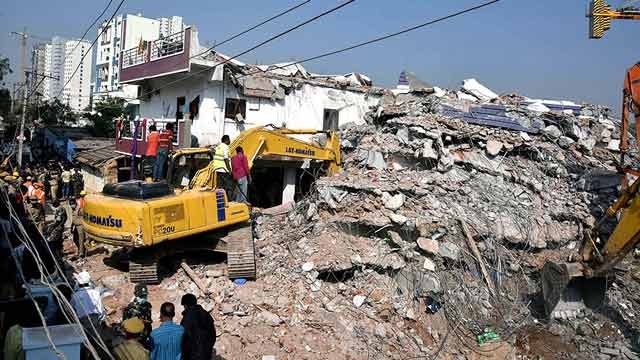 The death toll in the under-construction building collapse incident rose to 11 on Saturday with the National Disaster Response Force (NDRF) team finding more dead bodies under the rubble.
The six-storied building collapsed like a pack of cards on Thursday night in the busy IT sector of the city, apparently due to structural issues.
A mother and a child were pulled out from the debris on Saturday and were admitted to the Continental Hospital in Gachibowli.
The hospital said that their condition is out of danger. All the deceased belonged to four families living in temporary shelters under the first floor of the building.
Most of the victims belong to Vizianagaram district of Andhra Pradesh, who eke a living as construction labourers in the city.
The Andhra Pradesh government has arranged for free transport of their bodies to their hometowns.
Sunday 11 December 2016
http://www.deccanherald.com/content/585951/hyd-building-collapse-toll-touches.html