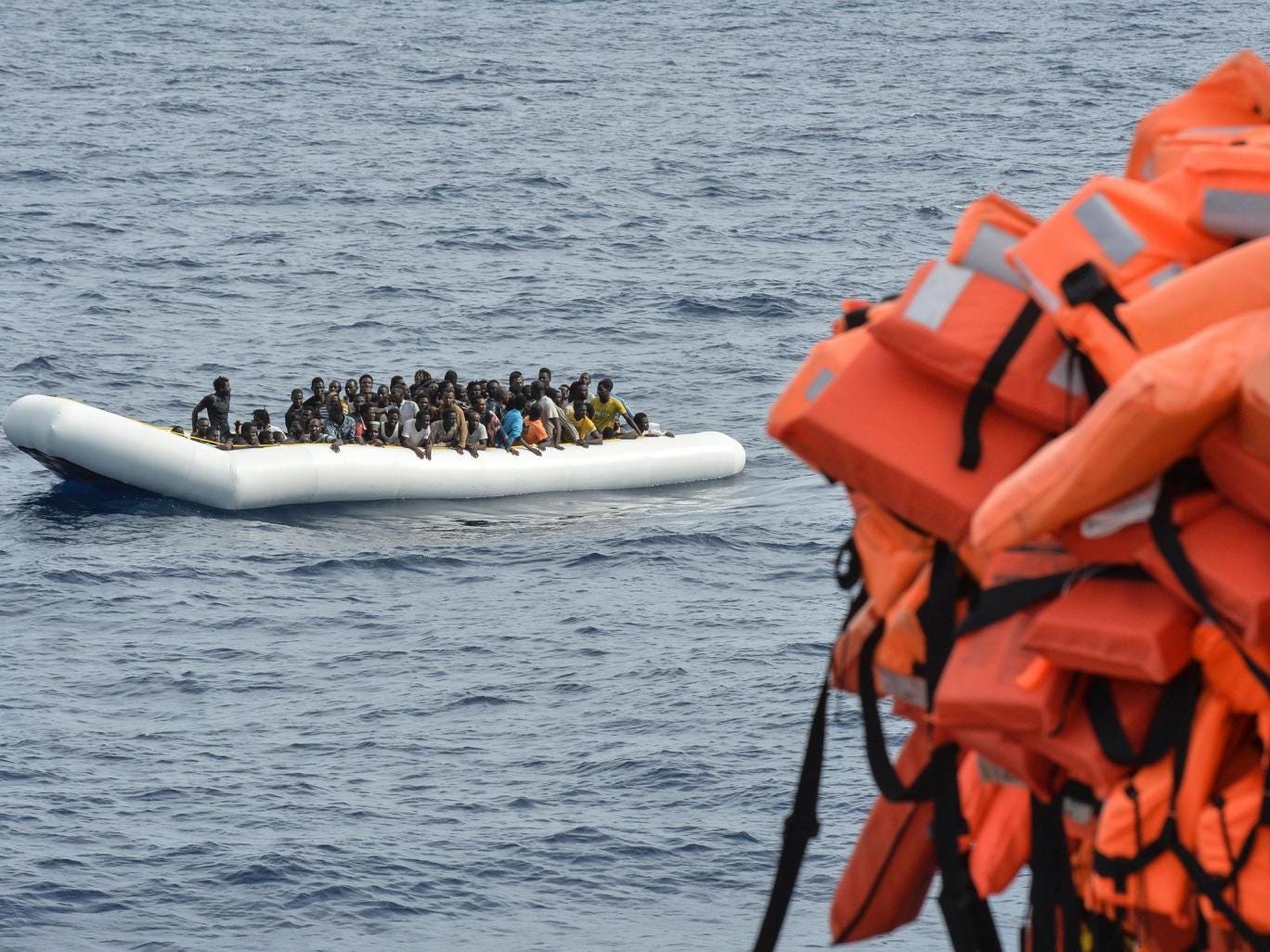 At least 240 refugees have died in 48 hours of boat disasters in the Mediterranean Sea as asylum seekers continue desperate attempts to reach Europe in worsening weather.
Only 15 people survived one sinking off the coast of Libya on Monday, telling rescuers around 135 people who had been packed into their rubber dinghy drowned.
At least 95 others died in a second disaster on Tuesday, with just nine bodies recovered from the water so far, pushing the death toll for 2016 over 4,500.
Survivors of the first sinking arrived on an Italian Coast Guard ship in the Sicilian port of Catania on Wednesday, where they told the UN refugee agency (UNHCR) of their ordeal
"The survivors told us that there were about 150 people on board, so there would be about 135 missing," spokesperson Iosta Ibba told AFP.
On Tuesday, an oil tanker was dispatched by Italian commanders to another capsized dinghy and rescued 23 of more than 120 people who had set out from Libya.
They were plucked out of the water and transferred to the Aquarius humanitarian ship run by SOS Mediterranée and Médecins Sans Frontières (MSF) to be taken to Italy.
Jugend Rettet, a German NGO, said its vessel had been recovered dead bodies from the water but the vast majority of refugees killed in boat disasters are never found or identified.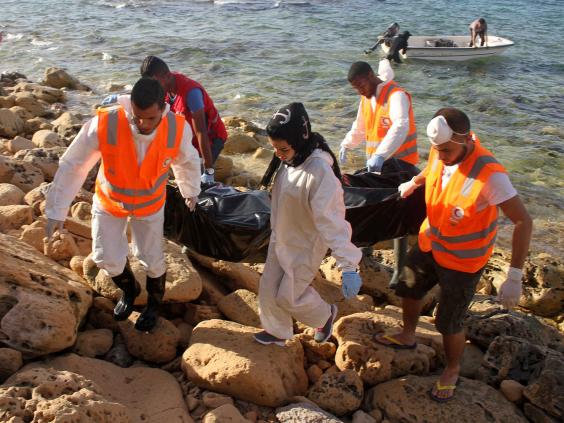 A survivor told a member of SOS Mediterranée staff that the dinghy had begun to sink at 6am, four hours before the tanker arrived.
"We were 122 on the boat, no children under 15, but there were 10 women travelling with us and only one survived," the survivor was quoted as saying.
"We waited in the water, taking any floating thing to remain afloat, but most of the people drowned, including my little brother. He was 15.
"At 10am the tanker came and rescued us. I want to call home to tell them that my brother died."
People smugglers have continued to launch overcrowded boats from the Libyan coast despite worsening weather conditions, seeing a string of tragedies in recent weeks.
Also on Tuesday, the Aquarius was called to a deflating refugee dinghy off the coast of Libya that had been at sea for 12 hours.
Rescuers arrived to find the boat filled with water and sinking, with panicking refugees jumping into the water including one person who the team could not prevent from drowning.
Five dead bodies were found on the boat and a 10-year-old boy and a woman had to be evacuated by helicopter for emergency medical attention, while 114 survivors were treated for hypothermia, fuel inhalation and chemical burns.
Three children under the age of five, 21 minors and eight women were among the saved passengers.
The refugee crisis has made the passage from Libya to Italy the deadliest in the deadliest in the world, claiming the vast majority of more than 4,300 lives lost in treacherous sea crossings to Europe so far this year.
It is the highest number on record, with analysts warning that EU anti-smuggling missions have driven people smugglers to pack refugees into ever smaller and less seaworthy boats to evade detection.
The Migrant Offshore Aid Station (MOAS), a rescue charity, said efforts in the Mediterranean were becoming more challenging than ever, with humanitarian efforts overwhelmed by the changing tactics of smuggling networks.
The group said gangs appeared to be "industrialising" to meet demand as conflict and lawlessness continues in Libya, where asylum seekers report being detained, extorted and tortured before they are forced on to overcrowded boats.
"The combination of heavier loads and inferior quality is a recipe for disaster", said MOAS head of operations Ian Ruggier. "There is no doubt that the vessels are built to last a few miles to see people beyond Libyan territorial waters."
The group said the true death toll is almost certainly far higher than the recorded figure as many boat sinkings are feared to be unrecorded, and bodies washed back on to Libya's shores are not routinely counted.
It is among several humanitarian groups calling on EU countries to provide safe passage for refugees trying to reach safety, such as resettlement programmes and visas, but political will has waned as anti-immigration parties continue to gain popularity.
Charities are additionally warning of dire conditions at overwhelmed reception and detention centres in Italy and Greece, but several nations, including the UK, are not taking part in a quota system for those who have already landed in Europe.
More than 340,200 migrants and asylum seekers have arrived in Europe by sea so far this year, with the crossing from Libya becoming the dominant route since the controversial EU-Turkey deal was implemented to stop arrivals over the Aegean Sea.
Around a quarter of those arriving are Syrian, followed by Afghans, Nigerians, Iraqis, Eritreans and other nationalities across Africa, the Middle East and Asia.
Wednesday 16 November 2016
http://www.independent.co.uk/news/world/europe/refugee-crisis-boat-disasters-sinking-capsized-240-migrants-drowned-libya-2016-deadliest-year-a7421346.html