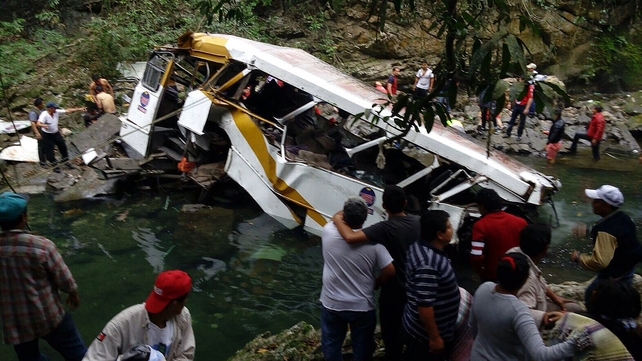 A bus carrying amateur football players and fans plunged into a river after careening off a bridge in eastern Mexico, leaving at least 16 people dead, authorities said.
Another 10 people were injured in the crash in the municipality of Atoyac in the eastern state of Veracruz.
A preliminary investigation found that the bus was speeding, causing the driver to "lose control" of the vehicle over a speed bump and break through a safety barrier, the state government said in a statement.
The bus "fell into the bottom of the Atoyac river," the statement said, adding that "16 bodies and 10 injured people were recovered".
Local civil protection officials reported an earlier toll of eight dead and 30 injured.
The bus was taking the players to an amateur football game and children were among the passengers.
Sunday 10 January 2015
http://www.rte.ie/news/2016/0110/759063-mexico-bus-crash/