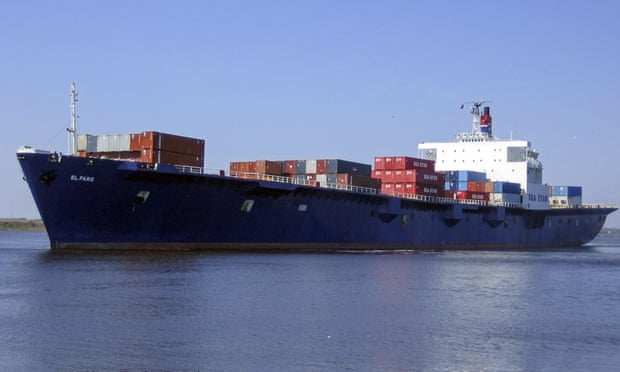 Debris discovered at the bottom of the Atlantic Ocean has been confirmed as the ill-fated cargo ship El Faro.
The National Transportation Safety Board (NTSB) revealed on its Twitter account that the survey of the 15,000ft deep site will continue as investigators continue to look for more information on the final moments of the vessel.
El Faro sank on 1 October east of the Bahamas during Hurricane Joaquin with 33 people on board. No survivors were found.
Sonar has indicated that the ship landed on the bottom upright, which could help teams recover the ship's voyage data recorder or "black box", the NTSB said.
Crews sent a remotely operated vehicle to confirm the wreckage after sonar imaging picked it up on Saturday.
The US Navy will continue to search the site on Tuesday with the vehicle, using its underwater cameras.
The "black box" could contain key information including audio from the bridge and comments from the captain on the condition of the ship.
Peter Knudsen, a spokesman for the NTSB, said: "The ship will certainly not be recovered; the ship is going to stay there. The containers are too deep to do any kind of recovery mission.
"If human remains are encountered, an attempt would be made to recover them."
El Faro's captain Michael Davidson had called in before the vessel disappeared saying the ship had lost engine power during its voyage from Jacksonville to San Juan, Puerto Rico.
He said the ship was listing and taking on water. The ship also sent out three different distress signals.
So far, no bodies have been recovered. The Coast Guard spotted one body floating in a survival suit after the boat disappeared, but there have been no traces of others.
Deb Roberts, mother of the ship's engineer Michael Holland, said positive identification of El Faro was "like losing Mike all over again".
"My head wants answers, but my heart wants to stick to my vision of hope, stick to my vision of him being out on an island out there," she said.
"It does make it very difficult."
Four families have filed lawsuits against the ship's owner, Tote Marine, and Mr Davidson.
They alleged the company failed to maintain the vessel properly and made the decision to sail with a strong storm brewing offshore that put the lives of the crew at risk.
Tote Marine has defended itself in US District Court. It asked a judge to release it from liability last week.
Tuesday 3 November 2015
http://news.sky.com/story/1580849/wreckage-in-atlantic-confirmed-as-missing-ship