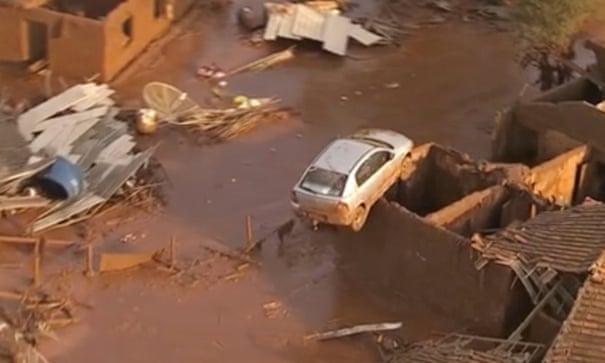 A dam that burst at an iron-ore mine in south-eastern Brazil on Thursday is thought to have killed at least 15 people, devastating a nearby town with mudslides and leaving officials in the remote region scrambling to assess casualties.
Forty-five people were still missing after the disaster at the Germano mine near the town of Mariana in Minas Gerais state, a local union told the G1 news portal.
The mine is operated by Samarco, a joint venture between the Anglo-Australian mining giant BHP Billiton and the Brazilian company Vale.
Andrew Mackenzie, the chief executive of BHP, said in Melbourne: "Most of what happened there has been under the cloak of darkness.
"At daybreak, clearly we will do an awful lot more and give you further updates."
The company would "take all steps" to ensure the safety of the workers and communities affected by the disaster.
Video footage on the G1 website showed houses of a village destroyed by flood waters and clay-red mud that surged down valleys in the mountainous region. Large vehicles lay tossed on their sides.
There was no official confirmation on the total number of dead and missing. A city hall official confirmed one death and 16 injuries, adding that dozens more were still missing.
Civil defence authorities in Mariana said they were evacuating about 600 people to higher ground from the village of Bento Rodrigues, about 7km (just over 4 miles) beneath the dam that burst, which was flooded as a result of the accident.
Television footage showed dozens of homes destroyed by the mudslide. A car rested on top of a wall where the roof of a building had been ripped off.
Authorities said the flood had also reached another village further down the hill, Paracatu de Baixo, and that inhabitants there were also being evacuated.
Rescue crews continued to search the muddy waters after nightfall. Brazilian army units nearby stood ready to help the search and rescue effort and the minister of national integration, Gilberto Occhi, planned to visit the state on Friday to provide assistance, according to a note from the presidency.
Samarco said in a statement it had not yet determined why the dam burst or the extent of the disaster.
BHP Billiton said in a statement that it was "concerned for the safety of employees and the local community ... We are in the process of obtaining more details from Samarco Mineracao."
Authorities said the dam was built to hold back water and residue from mining operations, a mixture that can often be toxic. The dam was holding so-called tailings, a mining waste product of metal filings, water and occasionally chemicals. It was located near the Gualaxo do Norte river, fuelling fears of potential water contamination.
Rescue teams were searching for survivors or bodies, and residents living nearby were told to evacuate to higher ground.
Samarco said in a statement on its website that it was making "every effort to prioritise care to people and mitigate damage to the environment".
"It is not possible at this moment to confirm a cause," it added.
A statement from the city hall of Mariana, a city of about 40,000 people 300km (185 miles) north of Rio de Janeiro, said the dam ruptured at 4.20pm in an area roughly 20km from the city centre.
The disaster comes as both Vale and BHP are battling a collapse in iron ore prices and a wider slump in the industry.
The Germano mine is a 50-50 joint venture between the world's largest iron miner and the largest mining company.
Iron ore is transported down a slurry pipe to Espirito Santo in south-eastern Brazil, where it is turned into pellets. Samarco produces around 30 million tonnes per year, according to its website.
Friday 6 November 2015
http://www.theguardian.com/world/2015/nov/05/brazil-iron-mine-dam-bursts-floods-nearby-homes