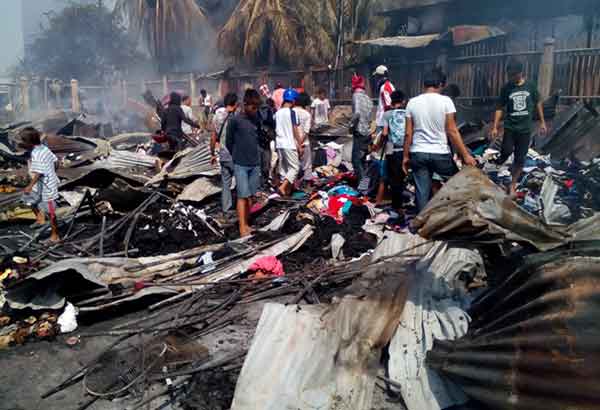 At least 15 people, including six children, were killed and 13 others were injured when a fire broke out at the old public market along Magay street here at dawn yesterday.
Authorities said the fire razed the "ukay-ukay" (used clothing) section of the market and spread to vegetable stalls and an adjacent commercial building.
Police Officer 3 Rafael Salcedo said the blaze started at 2:45 a.m. at the used clothing section after electrical lines sparked when power resumed following a blackout in the area.
The fire reached the third alarm before it was put out two hours later.
More than 300 stalls were destroyed by the fire, according to city fire marshal Dominador Zabala Jr.
Zabala said the fire trucks had difficulty in entering the site due to narrow alleys. He said rescuers recovered some of the bodies in makeshift stalls built above a creek.
The fatalities were identified.
Zamboanga police spokesman Chief Inspector Joel Tuttuh said most of the fatalities were vendors, who had been staying in their stalls with their families.
Some of the victims were taken to the Brent Hospital and the others were brought to the Zamboanga City Medical Center for treatment.
City disaster risk reduction management officer Elmeir Apolinario said the injured victims survived by passing through the sewerage.
Damage to property was placed at P8 million.
Mayor Ma. Isabelle Climaco-Salazar ordered the police and fire bureau to investigate the cause of the blaze.
The local government extended assistance to the victims.
Sunday 1 November 2015
http://www.philstar.com/headlines/2015/11/01/1517080/15-killed-13-injured-zambo-market-fire