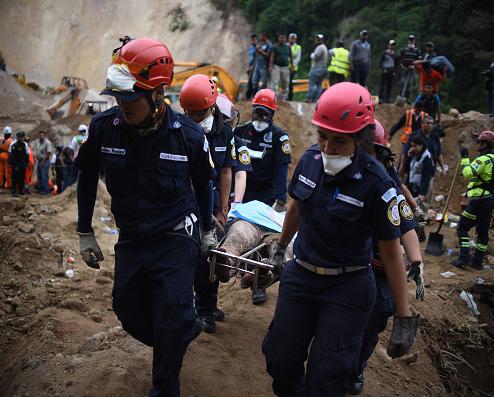 The number of people killed by the deadly landslide that hit a Guatemalan city has risen to 131, authorities said, with potentially 300 more people still missing three days after the disaster.
An estimated 125 homes were buried in El Cambray, a village on the outskirts of the capital, Guatemala City, when a 300ft hillside collapsed and covered an area of four acres with mud and dirt around 14 metres deep.
Rescue workers continued to pull corpses from the mud on Sunday as families began to bury their dead in the overcrowded local cemetery.
A funeral procession for the son and grandaughter of 59-year-old carpenter and painter Ismael Estrada saw 200 people walking through the streets to the cemetary. Estrada returned to the improvised morgue immediately after the service to search for his 19 family members that are still missing.
No survivors have been found this weekend despite the efforts of around 1,800 rescue workers sifting through the rubble.
An improvised morgue has been set up and municipal medical examiner Dr Carlos Augusto Rodas Gonzalez said 86 bodies have been identified and handed over to relatives, 26 of which were children and teenagers. Some bodies were found in pieces however, and many remain unidentified.
Authorities have estimated that 300 people are still missing, but admitted that many people may have fled the area and taken refuge elsewhere or with relatives without informing rescue teams, or that they were simply not in their homes when the mudslide hit.
Reuters news agency reports the number of missing is closer to 150 claiming authorities issued a sharp revision after recalculating the local population, however the official number remains unknown.
Authorities are now preparing to use heavy machinery to search the disaster area instead of digging by hand and listening for survivors, after rescuers reported that the buried homes they were searching have been filled with water.
Around 90 per cent of the search for bodies will now be carried out with backhoes and bulldozers said services coordinator Sergio Cabanas, who explained that rescuers will mainly be sent out on foot to recover a corpse that has been turned up by the machinery.
"The people who could have been alive have drowned," he said.
In the neighbourhood cemetery 36 new crypts have already been created, though the identification process of bodies has changed rapidly – bodies have reportedly become unrecognisable due to being buried in mud and water for three days, causing volunteers and workers in the makeshift morgue to rely on fingerprints and DNA tests to identify the dead.
"With whatever measure we have, any human remain that we receive, we will make every effort to give it a first and last name," Dr Gonzales said.
Tuesday 6 October 2015
http://www.independent.co.uk/news/world/americas/guatemala-landslide-death-toll-rises-to-131-with-as-many-as-300-potentially-still-missing-days-after-a6679706.html