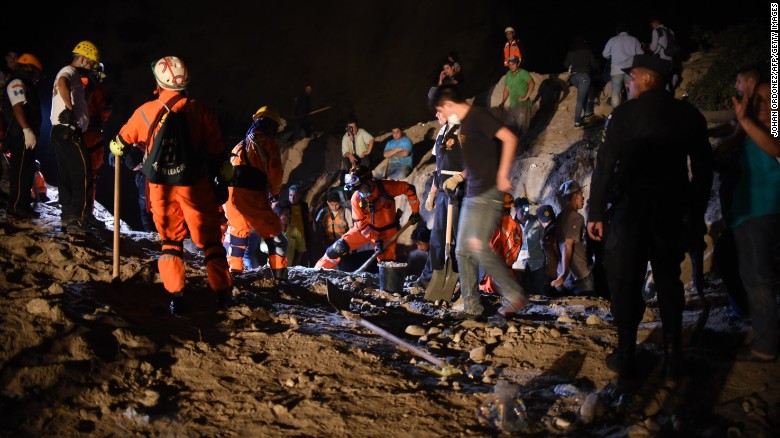 The gangly arms of four backhoes dug through a mound of sandy soil that had buried many of the residents of El Cambray alive in a landslide.
Carefully, the diggers turned up sheet metal roofs, broken walls and the bodies of people trapped in the dirt bulging over much of the Guatemalan village.
By early Sunday, they had recovered nearly 90 bodies of people who died after the side of a towering hill broke loose suddenly and crashed down on the village in the darkness of Thursday night.
Since then, residents and rescuers have shoveled and even burrowed with their hands in search of the hundreds of victims the country's Public Ministry estimates were inside the dozens of homes that were instantly engulfed by the landslide.
By Sunday evening, the ministry was reporting 131 people were dead and more than 300 still missing.
Heavy rains sent earth and rock cascading over homes and trapping residents inside on Thursday night. No survivors have been found this weekend despite the efforts of around 1,800 rescue workers sifting through the rubble.
Rain hampered search and rescue efforts on Sunday.
In the town's crowded cemetery, families sobbed as they placed wreaths on hastily-sealed tombs stacked in walls, where simple inscriptions in cement listed the names of the dead.
Many people in El Cambray did not heed a warning to evacuate, said Alejandro Maldonado, the national coordinator for disaster reduction. El Cambray is about 10 miles (16 kilometers) east of Guatemala City.
Somber finds
Rain had soaked the village and the forested hills that rise steeply up around it. The town is nestled in a deep valley, leaving little space between the hillside and the homes below to buffer the force of the earth and trees that fell down on them.
The rescuers and villagers formed long bucket lines of up to 100 people to pass away dirt and debris. Some carried out the bodies of neighbors and loved ones, including children.
"We found the two month-old twins, and now we are looking for their mother and sister," a villager said.
"We only found one of my nieces, in a state that nobody would want to see a family member," said another.
Many were still waiting for the first body of their loved ones to turn up.
"I have 20 missing family members -- my seven brothers, my dad and my brother-in-law" among them, another villager said.
As they tried to salvage what they could from under the dirt to aid them in grieving, the pale gash in the hill left by the landslide gaped down at those digging.
On Saturday, the workers stopped what they were doing briefly and stood still for a moment of silence.
Monday 5 October 2015
http://uk.reuters.com/article/2015/10/05/uk-guatemala-mudslide-idUKKCN0RW1Q220151005