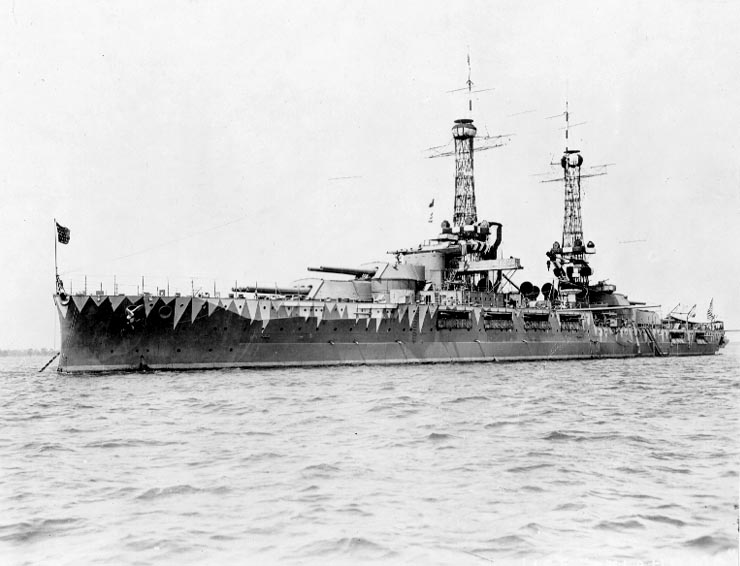 The fuel-stained bones, hundreds of them, are laid out neatly on Carrie Brown's exam tables at Offutt Air Force Base, carefully tagged and logged in her database.
In the clinical setting of Brown's lab it's easy to forget these are the last remains of the first American victims of World War II. These sailors and Marines from the battleship USS Oklahoma partied and danced and played cards on a Hawaiian Saturday night in December 1941. The next morning they died for their country in a cauldron of fire and oily water when the Japanese attacked Pearl Harbor and sank their ship.
They have rested for decades in graves marked "Unknown, Pearl Harbor, Dec. 7, 1941."
"All these families were told bodies were never recovered — and they were," said Ray Emory, 94, of Honolulu, a Pearl Harbor survivor who has long lobbied for the identifications of the Oklahoma unknowns. "I never thought they'd dig them all up."
After several years of internal debate, the Pentagon decided this spring to disinter 61 caskets holding the remains of up to 388 unidentified USS Oklahoma service members — including 17 from Nebraska and western Iowa.
The USS Oklahoma identifications — which investigators think will take five years — are also likely to spur identifications of many other "unknown" remains resting in military cemeteries around the world. And the Offutt lab, belonging to the newly created Defense POW/MIA Accounting Agency, or DPAA, is at the center of the effort.
"We are going to move forward on a large scale," said Brown, 33, a forensic anthropologist at the Offutt lab, which until now has been limited to examining individual remains from European sites.
DPAA emerged earlier this year, restructured from three agencies responsible for finding and identifying the remains of missing U.S. service members from the late-20th century wars.
In recent years those agencies had endured a barrage of criticism for bureaucratic infighting, ID methods and staging fake transfer ceremonies with empty, flag-draped caskets.
Most of all they were criticized for moving too slowly, averaging about 70 MIA identifications a year since 2010 on a budget that has jumped from $65 million to nearly $100 million. Congress has ordered them to boost the number of IDs to 200 a year.
To do so, the new agency has been given authority not only to open the graves of "unknowns" but also to work with private groups that excavate air crash sites in search of the remains of long-lost MIAs.
Since the opening of the Offutt lab two years ago there has been a trickle, not a torrent, of identifications out of Omaha. Most of the 56 exam tables in Brown's lab have remained empty — until the arrival of the USS Oklahoma unknowns this summer.
That news has cheered a dwindling group of Oklahoma survivors, and families of the dead, who had sought the identifications for years. The Navy had strongly opposed reopening the graves, but the Pentagon finally ruled in favor of the Oklahoma families in April.
When Japanese torpedo bombers swooped in over Pearl Harbor, the men of the Oklahoma stood little chance — especially those below decks at duty stations or in bunks on a Sunday morning.
Several torpedoes struck the battleship as it was moored on Battleship Row. The Oklahoma rolled, and sank in its berth. Most of the 429 victims drowned or were suffocated, some after spending hours or days shouting and banging for rescue from inside the hull.
Thirty-six bodies were recovered and identified soon after the attack. The rest remained entombed in the hull until the battleship was raised a year and a half later. The bones of the dead, encrusted in mud and oil, were removed from the ship and buried in two Hawaiian cemeteries.
In 1947 the Graves Registration Service spent two years trying to identify the remains. Though they matched names to 27 skulls using dental records, authorities decided to rebury all of the remains at Honolulu's NationalMemorialCemetery of the Pacific as "unknowns," because no complete bodies could be identified.
They might have stayed there forever if not for Ray Emory's dogged detective work. After the Navy veteran retired to Hawaii in the mid-1980s he visited the cemetery to pay his respects to Pearl Harbor victims.
"I wanted to know where the Pearl Harbor grave sites were," he recalled. "They couldn't tell me."
Emory set out to change things. Using the Freedom of Information Act, he gathered documents and learned about the 27 identified skulls. He traced some of them to individual graves. In 2003, one casket was exhumed and the remains of five Oklahoma sailors identified.
But the opening of that one coffin showed just how daunting the task of identifying the USS Oklahoma dead will be. DNA evidence showed that the casket contained remains of at least 95 individuals. It's assumed that remains are equally commingled in every casket.
"We absolutely know they're mixed up," Brown said.
Now her job is to solve this puzzle.
Remains began to arrive at Offutt soon after the first caskets were disinterred in Hawaii on June 8. Brown said skulls are being kept at the DPAA lab in Hawaii, which has experts in dental identifications. Other bones are being brought to Offutt in flag-covered caskets aboard military aircraft.
The bones come wrapped in blankets, she said. They are set out neatly on tables, arms and legs on one side of the table, ribs and backbones on the other, each bone or fragment logged into a database for tracking.
The remains are laid out such that the men would be facing an American flag that stands at one end of the room, following a military tradition.
People who have watched "CSI" on television may think identifying a bone is as simple as taking a DNA sample, testing it and matching it in a computer database — and sometimes it is.
But with the bones of people who have been dead for decades it can be more complicated than that, Brown said.
"We don't have DNA on file for people who served in World War II," Brown said. "DNA is very powerful if you have something to match it to. Otherwise, it's just a series of letters."
The Offutt lab uses traditional anthropological techniques such as comparing bones with medical and dental records while looking at artifacts and other clues. DNA is just part of the mix.
"It's very multifaceted," Brown said. "Many lines of evidence come together."
Brown said DNA testing will be central to identifying the victims from the Oklahoma. The agency has spent years collecting samples from relatives of nearly all the sailors and Marines.
The best DNA samples can be obtained from the largest pieces of bone, such as a thigh bone. Two kinds of DNA are found in human cells. Nuclear DNA allows a specific match, while mitochondrial DNA isn't as definite. But mitochondrial DNA is easier to extract from older samples such as the Oklahoma remains, because there is more of it.
"The possibility of identifying every single lost bone is not high," Brown said. "It depends what pieces you have, how quickly you can put the puzzle together."
When Brown looks at the bones laid out in the lab she maintains a clinical detachment, focusing on measurements and DNA and material evidence.
But occasionally someone will stop by to view the newly identified remains of a loved one. Brown will set up a room for a private viewing — and she is reminded why this work remains so important.
"The most poignant thing is meeting the families," Brown said. "It's what gets you up in the morning."
They are the families of men like 2nd Lt. John W. Herb, a 22-year-old fighter pilot who died April 13, 1945, in the crash-landing of his P-51D Mustang east of Hamburg, Germany. His remains were identified earlier this year through the efforts of Brown and the Offutt lab. Herb was buried at ArlingtonNationalCemetery in June.
"All we ever knew was that John was shot down in Europe, and he was never found," said Michael Herb, John's second cousin and closest living relative. That changed last year when members of a private group called the Missing Allied Air Crew Research Team contacted members of Herb's family and told them the crash site had been found.
They learned a German man named Manfred Roemer had seen the plane crash as a 5-year-old and never forgot it. Years later, he went looking for the crash site.
Roemer found two women who had seen Herb pulled — alive — from the wreckage by two German officers and executed and buried in a shallow grave. He learned another woman had tended the grave for decades. He notified German authorities, and last year led a U.S. military archaeological team there.
"He's the one who pursued this," Michael Herb said. "He's the one who did the right thing."
John Herb's remains were unearthed and shipped to the Offutt lab, and he was identified within days.
The Herbs were so grateful they invited Brown to the service at ArlingtonNationalCemetery. She couldn't make it, but other DPAA employees attended. So did Roemer, who made it possible.
Michael Herb found the ceremony — complete with military band, rifle salute, folded flag and taps — to be a moving experience.
"There were 80 people at the grave site — 80 people who never knew this guy," he said. "It made you feel like you were part of something that was a real honor."
If all goes smoothly, that honor soon will be extended to hundreds more families of World War II service members — men whose bones are resting in an Offutt Air Force Base lab, waiting to be taken home.
Tuesday 1 September 2015
http://lexch.com/news/working-to-identify-sailors-lost-on-the-oklahoma/article_c8d31ebc-4ffc-11e5-8d24-5be4d924e390.html