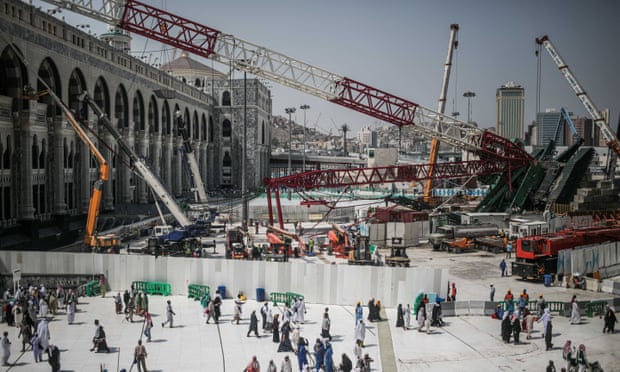 Ten bodies of those who died in the crane tragedy at Makkah's Grand Mosque have yet to be identified.
Al-Madinah daily, citing sources, said that the number of fatalities is 109. Among them, 92 have been identified and of them, 89 have been released for the last rites; three are yet to be handed over. Eight bodies are in pieces.
Indians comprised the largest number of casualties with 13, followed by 12 Pakistanis, it said. Among the identified bodies, 24 are women and 68 men.
Meanwhile, the Civil Defense in Makkah recovered two more bodies from under the rubble of the crashed crane. Brig. Abdullah Al-Harthi, Civil Defense spokesman, announced on Monday that his teams found the two bodies after dismantling parts of the crane to remove it from the site.
"The two martyrs are Malaysian, putting the total number of the dead at this moment at 109," he said. He added: "We faced some challenges in identifying some bodies because they were in pieces. We used thumb impressions to identify them."
There is a possibility that more bodies are lying under the crane debris.
Wednesday 23 September 2015
http://www.arabnews.com/news/810466