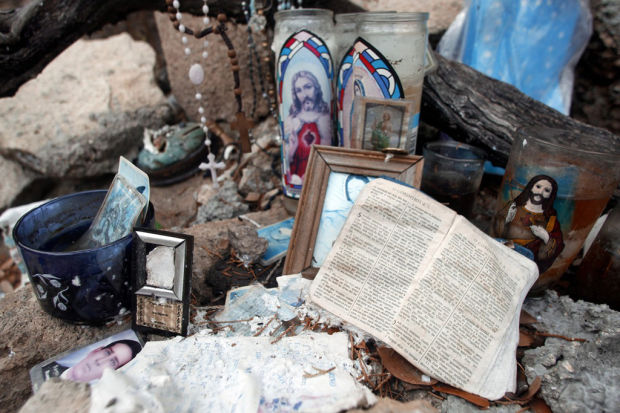 A hairbrush. A bus ticket. A stuffed purple dinosaur. A container of Vaseline.
These are among the many items left in the desert by immigrants who attempt to cross into the U.S. from Mexico. And they are sometimes the best clues authorities have for identifying those who die traversing the rugged terrain.
In Arizona, an average of 170 men, women and children lose their lives crossing the U.S.-Mexico border every year. Because of harsh desert conditions, their bodies often are unrecognizable by the time they are found, making it nearly impossible to identify them and notify their families in Mexico.
Robin Reineke, a UA anthropology doctoral student, is committed to finding out who they are.
"Thousands of families are suffering without answers, and anthropologists have a duty to show up," she says. "These are vulnerable people from places traditionally studied by anthropologists, and they're losing their lives in the city where we live."
Reineke is executive director and co-founder of the Colibrí Center for Human Rights, a family advocacy organization that is working to end migrant deaths.
The center works with families and forensic scientists to collect missing person's reports and to identify those who die in the desert. The organization also works on policy reform, and partners with artists and storytellers to raise awareness of humanitarian issues on the border.
Reineke began her efforts in 2006, during her first year as a graduate student in the UA School of Anthropology. She was interested in how cultural anthropology could be applied in conjunction with forensic anthropology to help in a disaster or conflict.
Aware of the crisis on the U.S.-Mexico border, she reached out to forensic anthropologist Bruce Anderson in the Pima County Office of the Medical Examiner.
Reineke was inspired by Anderson's efforts to identify the bodies of border crossers. It's not typically the job of a medical examiner's office to manage the missing person's side of an investigation, but because immigrants are not U.S. citizens — and therefore local law enforcement doesn't handle their cases — Anderson had taken it upon himself to help families identify their loved ones, using detailed physical descriptions and clues such as jewelry and other personal effects found with bodies.
"I was really motivated to work with him because I recognized him as someone with an intense moral compass," Reineke says. "In addition to having the highest caseload in the country of any forensic anthropologist, he was also taking down information from the family members who were calling his office directly looking for their relatives."
As the number of migrant deaths increased over the years, the job had become too big for one person, so after meeting with Reineke, Anderson enlisted her help. And thus the Missing Migrant Project was born.
Anderson had started the project with a three-ring binder of about 250 hard-copy missing person's reports that had been called in to the Pima County Office of the Medical Examiner.
Over the next seven years, Reineke took hundreds more of those calls as the office's in-house missing persons family advocate.
"Robin's a special person, and her drive and intellect and passion for this makes her the best person for this job," says Anderson, a UA alumnus and adjunct assistant professor in the School of Anthropology.
Reineke began managing a digital database of missing migrant reports. As word got out, her caseload grew to a whopping 1,300, and the need for more help became clear.
In 2013, with support of more than $100,000 from the Ford Foundation, Reineke and William Masson, a UA Eller College of Management alumnus, co-founded the Colibrí Center for Human Rights to continue and expand upon the work of the Missing Migrant Project.
The word colibrí is Spanish for hummingbird, which is a common Mexican symbol of safe passage and a messenger between the living and the dead. The center's name was inspired by a man who died crossing the border in 2009; among his remains was a small, dead hummingbird carried in his pocket.
Today, anyone who calls the Pima County Office of the Medical Examiner to report a missing migrant is routed through the nonprofit Colibrí Center, which operates two offices — one inside the medical examiner's office and one in downtown Tucson. There, staff, volunteers and interns from the UA Honors College process the information and see if they can make a match to data about unidentified remains produced by Anderson and others at the medical examiner's office.
Call frequency can range from as few as three a week to as many as 15 a day during peak summer months, when deaths in the desert are at their highest, Reineke says.
With so many people missing and often very few clues, making a positive identification is challenging, but when successful, it can help bring families closure, she says.
"Those notification calls are some of the hardest things any of us have ever done in our lives, but in general it's cathartic for the family," Reineke says. "There's a lot of crying, there's a lot of pain, but very often they also express gratitude. For someone to express gratitude when they are hearing such terrible news, you know that that experience of having a missing person must have been torture."
Reineke's work with Anderson on the Missing Migrant Project and with the Colibrí Center has attracted national and international attention from media outlets such as the New York Times, Los Angeles Times and the BBC, among others.
The center now maintains the largest, most comprehensive database of missing migrants in the nation, and Reineke hopes to share the Colibrí Center knowledge and tools with other border communities.
"Part of what we're trying to do at Colibrí is take the knowledge and experience that we've gained working with the exceptional humanitarians and scientists here in Pima County and share that with smaller, less well-funded counties," she says.
For Reineke, the work is far more than just a job.
"There is a mass disaster occurring in our backyard," she says. "I feel very strongly that it's a moral obligation and duty to utilize my expertise and my training as an anthropologist to do the best I can for my fellow human beings who are living a nightmare very close to where I live."
Tuesday 15 September 2015
http://uanews.org/story/anthropology-in-action-identifying-missing-migrants