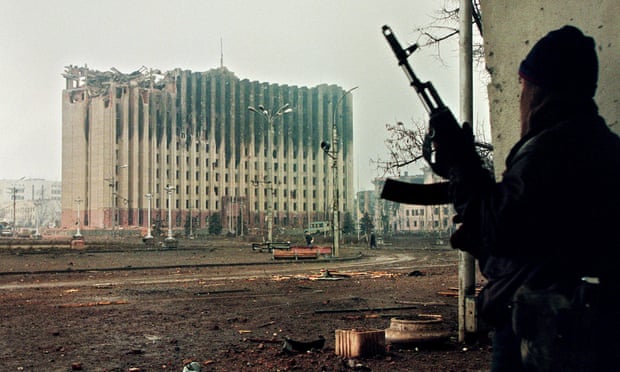 Zura Batayeva carefully holds a small black-and-white photograph between her fingers. Creased and faded, it shows an earnest man with curly black hair.
The picture is all that remains of her son, Visit Batayev, who disappeared without a trace shortly after Russian tanks rolled into Chechnya more than 20 years ago – launching the first of two devastating wars against separatist rebels in the North Caucasus republic.
"The worst is not knowing what happened to him," she says. "Only the thought that we will be together after I die brings me solace."
This agonising uncertainty is shared by many Chechens.
Rights groups say an estimated 5,000 people are still missing from the two wars – the first of which began in December 1994, when federal forces launched a bloody attack on the capital, Grozny.
Like the Batayevs, many families still searching for their relatives accuse authorities of turning a blind eye to their plight.
Ramzan Kadyrov, Chechnya's Kremlin-appointed leader, has overseen a massive campaign to rebuild Grozny with the help of cash injections from Moscow. But as glistening skyscrapers go up around the city, the grim task of laying the war dead to rest has fallen chiefly to human rights activists.
"No one needs us. The government has left us with our problem," says Batayeva's husband, Abuyezid Batayev. "We have received a lot of help from ordinary people, but they have their own problems. Many have missing relatives, too."
Rights groups say there are still unopened graves in fields, courtyards, and basements throughout Chechnya.
'These bodies need to be identified'
Visit Batayev was 27 years old when he disappeared, along with his neighbour, Musa. Witnesses say the two men were seized by Russian soldiers as they hid from shelling in the basement of a Grozny hospital.
Musa's body eventually surfaced in a morgue in Moscow, and although the circumstances of his death remain unknown his parents were able to give him a proper funeral in Chechnya.
Visit Batayev's continued absence, however, has prevented his parents from coming to terms with their loss. "Sometimes I close my eyes and I see my son. It's as if he had returned," Batayeva says. "I see him speaking to me. I see us having lunch together under the summer canopy of our house. I see him in my dreams, too."
Zainap Mezhidova, a rights campaigner whose own son is missing, knows of at least three mass graves that she says contain the remains of hundreds of people.
"These bodies need to be identified. We know where they are located," she says. "The authorities should be looking for our children."
'When I hear a child calling for his mother in the street, I turn around'. Zura Batayeva remembers her son.
Promises
Despite Kadyrov's repeated promises, Chechnya still has no forensic lab of its own. Remains exhumed from mass graves are sent either to Moscow or Rostov-on-Don for identification before being returned for burial in Chechnya.
Batayev says he has combed through numerous mass graves in search of his son, sifting through human remains with his bare hands.
He was once told that the body of a man matching his son's description had been found in a mass grave close to Grozny's cannery. Documents on the body gave Visit as the man's first name.
The Batayevs immediately rushed to the site. "There were about 250 bodies there," Batayeva recalls.
The body, however, did not belong to their son. "That day I collapsed and I hit my knee very hard," she says. "It still hurts today."
Desperate to find his son, Batayev travelled to a forensic lab in distant Rostov-on-Don. He says he saw many bodies there, but his son was nowhere to be found.
Today, he and his wife no longer have the strength to search for his body.
But Batayeva, despite the odds, refuses to give up hope of finding him alive. "When I hear a child calling for his mother in the street, I turn around," she says. "I still have some hope of being reunited with my son one day." Wednesday 2 September 2015
http://www.theguardian.com/world/2015/sep/02/chechnya-anniversary-missing-people-remain