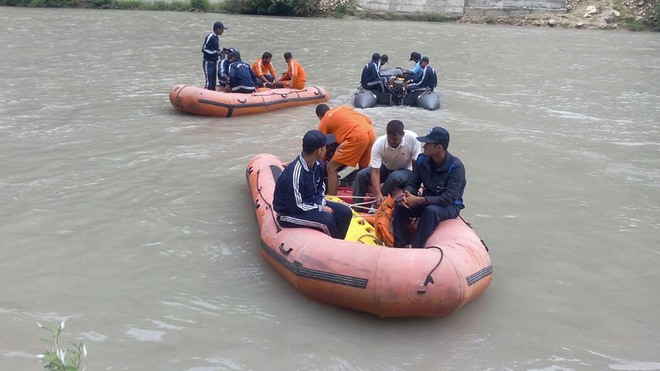 A male body was today spotted by villagers near Bajaura in Kullu district. Search teams retrieved the body from the Beas river and sent it to the government hospital.
A 52-seater bus with 69 pilgrims on board from Mansa, Barnala and Bhatinda districts of Punjab plunged into the swollen Parbati river near Sarsari village on the Bhuntar-Manikaran road in Kullu district on July 23. Eight persons died on the spot, while bodies of four pilgrims were later recovered from the river and the Larji Dam. However, 34 pilgrims are still missing. At least 23 persons were injured in the mishap.
Rajinder Singh Gill, member of the Kullu Kar Seva, said the relatives of the missing pilgrims camping here could not identify the body. However, photos bear resemblance to one Balwant Singh, son of Lal Singh of Jagaramtirath village in Talwandi tehsil of Punjab. He said relatives of the missing had been called for identification of the victim.
Meanwhile, Talwinder Singh, tehsildar, Barnala, consoled the relatives of Komalpreet Kaur, whose body was today sent to her native place. He assured them all support from the Punjab government.
Kullu Deputy Commissioner Rakesh Kanwar said the administration would rework the strategy tomorrow as exhaustive search and survey of the entire stretch from Sarsari up to Larji Dam undertaken at the potential spots to find the missing persons by the Navy had not yielded much result.
He said due to strong river water current, the equipment of the Navy could not trace the wreckage. Cold waters prevented divers to stay under the water for longer duration.
He said the search for the missing persons from the accident spot up to the Largi Dam along the Parbati and the Beas rivers would continue till the last week of September.
A 12-member Indian Navy team headed by Commander Tilak Thakur had yesterday started search operation with Sonar imaging system, but the operation was hampered due to muddy and turbulent water of the river.
Nearly 160 personnel of the National Disaster Response Force (NDRF), Shastra Seema Bal (SSB), Indo-Tibetan Border Police (ITBP), Home Guards and state police have been pressed into the search operation.
Tuesday 4 August 2015
http://www.tribuneindia.com/news/himachal/manikaran-mishap-one-more-body-recovered-yet-to-be-identified/115088.html