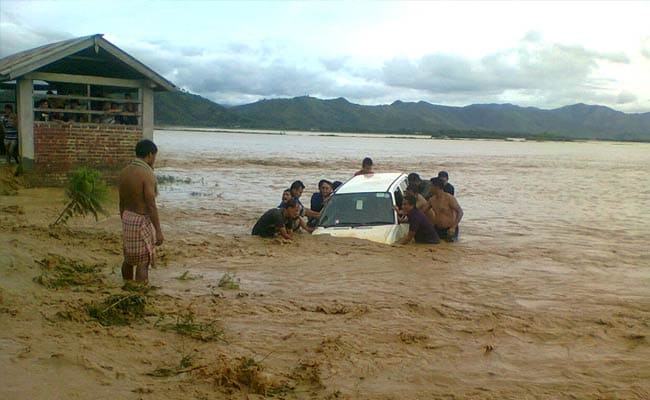 Around 20 villagers were reported killed in a landslide in Manipur's Chandel district while a 60-year-old man drowned in Thoubal district in the flash flood triggered by incessant rains and subsequent heavy rain since the last three days inundating many villages and agricutlural fields and washing away five bridges in the districts.
As the heavy rains continued non-stop from Wednesday to Friday, landslide occurred burying around 20 villagers besides sweeping away 12 houses at Joumol village, about 168 km south of here under Khengjoi Sub-division around 6.30 in the morning,sources said. Rescue operations have been undertaken by Assam Rifles and nearby villagers.But the state disaster management team could not reach the spot due to landslides at several locations along the stretch of Imphal-Moreh Highway. Thus, the bodies of the dead could not be retrieved till filing of this report.
"Rescue teams are being sent to Juomol at the earliest and will reach by tomorrow morning because of heavy rains and landslides. The government is trying to mount relief operations as effectively as possible," Chandel lawmaker Victor Nunghlung told NDTV.
What is also hampering rescue operations in the area is the damage to crucial bridges in Chandel, including one that connects Chandel town to the Juomol village. The Manipur govt says the only other route to the village is through Myanmar. This morning, choppers were spotted by local residents in the area, suggesting that the government is trying to mount air rescue and relief operations.
The flash flood inundated some portion of Indo-Myanmar route in Thoubal district and several villages under Heirok,Yairipok, Wangjing, Salungpham, Keirenbikhok, Khangabok, Wabagai, Keirak, Kakching, Hiyanglam-Hiranmei, Langmeidong, Lamjao, Pallel areas besides washing away some houses at Pallel area and one bridge built over a canal at Yairipok area in Thoubal district.
Reports from Thoubal and Chandel districts said authorities have surveyed the damage and the affected people to provide government assistance, sources added.
Two more houses of Chakpikarong Khupi village and four suspension bridges have also been washed away by flood water and Chakpi river, sources added. There were about a dozen worst affected houses around the Chandesl district headquarters and Chakpikarong area. The district authority has opened a relief camp at Maha Union higher secondary school by setting up a control room.
Reports from other districts said major rivers including Imphal, Iril,Kongba,Nambul have started to flow at an alarming level on Saturday. Some of the people residing on the riverbanks have started shifting to safer places.
Sunday 2 August 2015
http://www.assamtribune.com/scripts/detailsnew.asp?id=aug0215/oth050