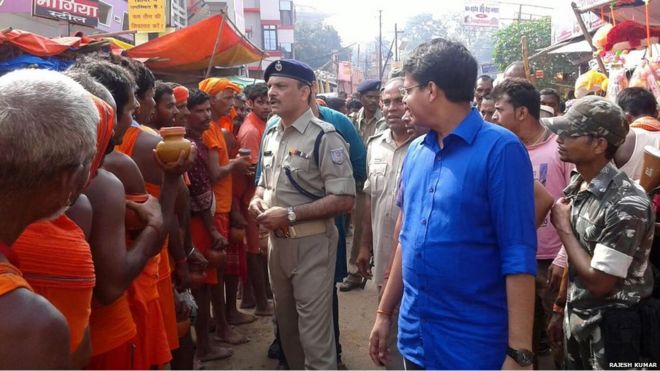 At least 10 people have been killed and 20 injured in a stampede at a temple in the eastern Indian state of Jharkhand, officials say.
Pilgrims have been marking a Hindu religious festival in Deoghar town.
It happened as pilgrims tried to make their way into the complex, a district official told BBC Hindi.
Deadly stampedes are common during Indian religious festivals, which attract large crowds with few safety measures in place.
The stampede at the Baidyanath Jyotirlinga temple began after pilgrims surged towards the shrine shortly after the doors opened early on Monday, an official told the AFP news agency.
Monday is considered an auspicious date to visit the shrine, which includes a main temple and 21 smaller ones devoted to Shiva, the god of destruction.
Pilgrims sleeping in the 6km (four miles) long queue were trampled as others pushed towards the doors, senior police official SN Pradhan said.
"Many tried to rush to the head of the queue which led to chaos and as some of them fell, the devotees got trampled."
"Ten people including one female devotee are now confirmed dead. Another 15 to 20 people have received injuries," he said
In October, some 91 pilgrims, mostly women and children, were killed in a stampede at a Hindu festival near the Ratangarh temple in Madhya Pradesh state.
In 2011, more than 100 died at a festival in the southern state of Kerala.
Monday 10 August 2015
http://www.bbc.com/news/world-asia-india-33844083