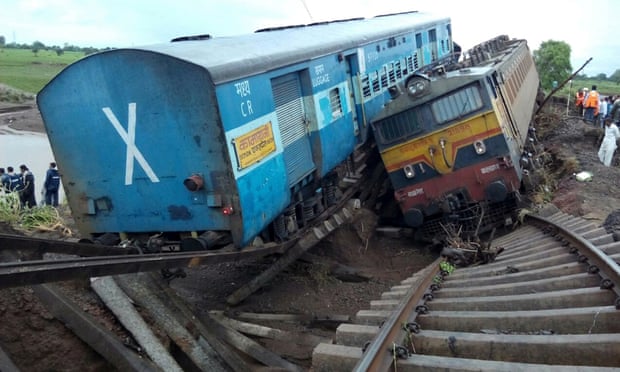 One more body was recovered on Friday, taking the toll in twin-train tragedy near Harda station to 30. The dead, identified as Shobhnath Pasi, 55, was a native of Badka Dela village in Phoolpur tehsil of Uttar Pradesh's Allahabad district. Pasi, who was working in a powerloom in Mumbai, was travelling from Mumbai to Allahabad in Kamanyani Express's general bogie.
Shobhnath Pasi, 55, was a resident of Badka Dela village under Phoolpur tehsil of Uttar Pradesh's Allahabad district. Pasi was living in Mumbai and working in a powerloom factory. He was travelling from Mumbai to Allahabad in Kamanyani Express's general bogie when the accident took place.
"His son Rakesh Pasi, who came to Harda after hearing about the incident, identified him," Harda SP Prem Babu Sharma told TOI. "13 passengers are still missing and rescue operations are underway," he said.
Sources said the toll may cross 40. If they were alive, they could have been traced by now or would have approached family members.
Kin of 25 people have lodged missing complaints about their near and dear up to Friday. Of these, eight people were identified from the bodies sent to Bhopal and four were found alive in Harda, but the whereabouts of remaining 13 could not be traced so far.
District police have launched a 24x7 helpdesk at Harda railway station to provide information to kin of those missing.
On Friday, rescue operations by state disaster relief force, national disaster relief force and local administration continued. Officials said relief work would continue for next couple of days. Derailed bogies and debris are yet to be removed from the accident site.
Several passengers were trapped in two bogies of Janata Express perilously hanging while three wrecked compartments telescoped into the Kamayani Express. The accident took place near Mandla village under Khirkiya tehsil of Harda district.
Mumbai lad recounts harrowing experience at mortuary
Mumbai resident Ajay Patel's family members were taken out dead from the wreckage of Janata Express by rescue workers at Harda. Four bodies wrapped in sheets, tossed on the slush at the tragedy site for identification and then stuffed into an ambulance van to Bhopal, where it was shoved into a frigid morgue. Sixty hours later, Ajay, who is just out of high school, is struggling to get custody of the bodies for performing last rites. It was a traumatic journey from Kalyan railway station, where he first heard the tragic news to a roller-coaster ride to Harda ground zero and then a harrowing experience at the morgue at Hamidia Hospital, Bhopal.
Ajay only had a fleeting glimpse of his parent's decomposed bodies. He cringed as he pointed out to mortuary officials that they were his own. Now, he's still waiting to get custody of the bodies for funeral. With no coordination between police, doctors and railway officials, many like Ajay are getting trapped in red tape of babudom.
"I was waiting at Kalyan railway station to receive my parents, aunt and cousin. It was then that I heard about the accident. I dialled the helpline number and heard the shocking news. I did not know much about Harda or Bhopal. I and my uncle headed for Harda in a taxi as trains were diverted. We scoured photographs of the dead put up at notice board at Harda railway station and then reached Bhopal. I waited at BMHRC morgue for three hours and still didn't get the bodies. I spent sleepless night in the open at the hospital campus. In the morning, we were told, the bodies were taken to another hospital for autopsy," he said.
Since Friday morning, Ajay is waiting outside mortuary at Gandhi Medical College for the autopsy to end. "There's nobody to lend a helping hand. There's so much red tape even after a national tragedy," he said. His parents, Baliram, 47, Hari Bai, 44, aunt, Shashi, 35 and cousin Satyam, 11, died after the coach in which they were travelling sank into the swollen Machak river after two trains derailed on the bridge.
Ajay is eldest in the family and his two younger siblings, brother Vikas, 16 and sister Manju, 18, are in Kalyan, Mumbai, still unaware of what has happened.
The bodies were taken out of GMC Hospital after autopsy late afternoon and Ajay hired two hearses for railway station.
Ajay's is not the only sordid tale. Families of victims are having a tough time dealing with administration as officials of Railways and district administration are not in sync. Arman Shah, who lost his elder brother, Ramzan Shah, 23, had to also struggle to get the autopsy done and take the body home. Two railway officials, including ticket examiners, were also present at the hospital on Friday. "What we can do? Police and doctors do not listen to us. Railway brass should take note of the situation," they said.
Kamayani Express, headed for Varanasi in Uttar Pradesh from Mumbai, derailed near Harda town, 160 km south of Bhopal, shortly before midnight. The Janata Express, en route to Mumbai from Patna, too derailed at the same spot minutes later. A total of 30 bodies have been recovered so far, besides, at least 13 passengers are still missing.
Saturday 8 August 2015
http://timesofindia.indiatimes.com/city/bhopal/One-more-body-found-toll-30/articleshow/48399401.cms
http://timesofindia.indiatimes.com/city/bhopal/60-hrs-after-tragedy-Mumbai-lad-recounts-harrowing-experience-at-morturary/articleshow/48399415.cms