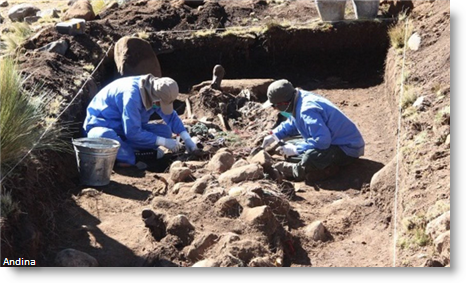 A team of forensic specialists have found the remains of 50 men, women and children in Ayacucho, in five mass graves outside the town of Oronccoy.
The investigation has shown that the bodies were buried in 1985, at the height of the internal conflict between Shining Path rebels and the military and police. In this particular case, the victims were executed by members of the special police force known as the Sinchis.
The forensic work at the site, in a remote area far from roads and communication, will conclude on August 28.
According to the district attorney, witnesses have stated that the murders were committed before dawn one morning n January 1985 at Estaca Parada, some three hours from Oronccoy. Because of the fear of attacks either by Shining Path or the military, several families had chosen to live together.
Oronccoy is in the district of Chungui, which in 2013 gave a proper burial to the identified bodies of 79 people killed between 1984 and 1985 by both the Shining Path and the military.
The district was the hardest hit in the conflict and lost 17 percent of its population — more than 1,300 people— in what Peru's Truth and Reconciliation Commission called "the most cruel and devastating bloodbath" perpetrated by the "insanity of Shining Path and the brutal repression of the military and police forces."
Oronccoy was abandoned by most of its townspeople in the 1980s, but many of them slowly returned a decade later in a government-supported program to reclaim their homes and farms.
Thursday 20 August 2015
http://www.peruviantimes.com/20/forensic-team-finds-mass-grave-in-chungui-ayacucho/24773/