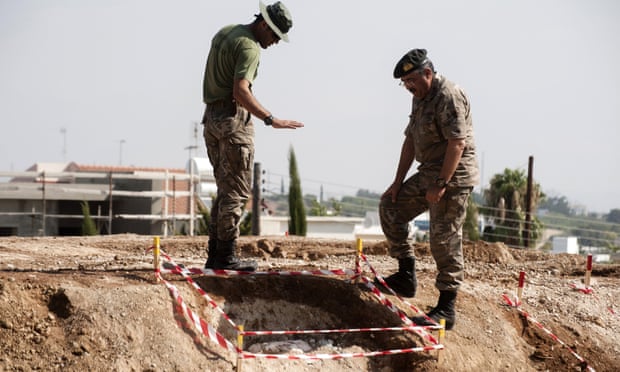 Cypriot officials searching for the remains of a Greek military plane that crashed 41 years ago believe they may have discovered the aircraft buried near a war memorial on the outskirts of Nicosia.
The discovery of shards of metal has raised hopes that the bodies of the 19 soldiers still believed to be inside the plane's incinerated fuselage could be recovered and returned to their families.
The Nord Noratlas, a Greek military transport aircraft, was brought down by friendly fire in the opening days of Turkey's invasion of the island in 1974, with just one survivor among the 32 people on board. Twelve bodies were collected and identified from the crash site, but 19 soldiers remain unaccounted for.
Fotis Fotiou, the humanitarian affairs commissioner for Cyprus, said: "Initial findings are positive that the aircraft is here. My message to the relatives is that we will do whatever it takes to find the remains of their loved ones so they can be buried according to our Orthodox Christian customs and traditions, as well as with all appropriate honours."
Fotiou said the second, more intensive phase of the dig will begin next week, with the assistance of experts from countries including Canada, Australia and the Netherlands, who specialise in military-related excavations.
He said possible explosives and ammunition may still be inside the aircraft's fuselage, making the recovery work particularly risky.
Xenophon Kallis, an official at the Cyprus foreign ministry, said shards of aluminium and other metal found during the initial phase of the operation has boosted confidence that the aircraft is there.
The Noratlas crashed as it was coming in to land at Nicosia airport in the early hours of 22 July 1974.
The plane went down under withering volleys of friendly fire from the airport's Greek Cypriot defenders, who were fearful of an imminent landing by invading Turkish forces to take the strategically important area.
It was one of 13 aircraft that arrived from Greece to help defend against the invasion, triggered when supporters of Cyprus uniting with Greece mounted a short-lived coup. The island has since been separated into a breakaway Turkish Cypriot north and an internationally recognised Greek Cypriot south.
Accounts from the time suggest word of the plane's arrival reached the airport's defenders too late. Fire from anti-aircraft batteries and other small arms tore through the Noratlas, which burst into flames and crashed several hundred metres from the now defunct airport that straddles a UN-controlled buffer zone.
The remains of 12 soldiers scattered around the crash site, which were collected and buried at a Nicosia cemetery, have been identified through DNA analysis.
But in two separate instances, families mistakenly received remains they should not have. The mistake was rectified after remains found later at the Nicosia cemetery were positively identified and returned.
Friday 8 August 2015
http://www.theguardian.com/world/2015/aug/06/cyprus-greek-military-plane-shot-down-1974-discovery-nicosia